For the record, Cheryl Wheeler is not an "angry dyke." No matter what the Westboro Baptist Church says.
"Well," she says, "I do get angry if I watch too much MSNBC or read too much Huffington Post. I get angry at the right."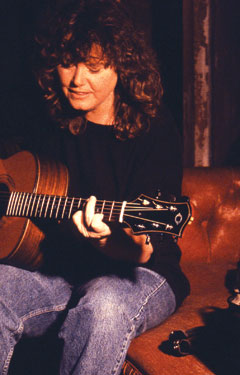 Cheryl Wheeler
(Photo by Gwendolyn Cates)
The prolific folk singer, known for her husky, dulcet voice and witty, winsome way with lyrics and catchy, lovely melodies, drew the ire of the Westboro Baptist Church in October after she wrote "Lady Gaga's Singing Program," a novelty song that took the church's point of view, albeit in a playful, poking way.
"I was reading an article in Huffington Post about the Westboro Baptist Church being at a Lady Gaga concert," she explains. "They were there to protest. I didn't read the whole article, why bother? But there was a quote in it from one of the Westboro people saying something about 'Lady Gaga's less-than-beautiful singing program.' I was so struck by that language, I thought, 'What a great title.' So I wrote a song with that title from the viewpoint of the Westboro Baptist Church. I wrote it as a hymn."
When Wheeler performed the song on NPR's Mountain Stage radio broadcast in October, it caught the attention of the Westboro crowd, who proceeded to send out a barrage of hateful tweets.
"It was so funny," laughs Wheeler. "They called me a 'God hating mocker.' And one of them called me an 'angry dyke.' I'm not angry. [My manager] Tony [Gottlieb] wanted to respond to them. I was like, 'Tony, if you really want to see an angry dyke, you respond to them, because I will kill you.'"
Wheeler's wry, almost gentle sense of humor comes through even in casual conversation.
"I've never made any attempt to communicate with the Westboro Church in any way," she says, "any more than I would try to teach algebra to a caterpillar."
The 60-year-old singer-songwriter, whose pop-infused numbers have been covered by the likes of Dan Seals ("Addicted"), Kathy Mattea ("Love Travels") and Suzy Boggus ("Aces"), straddles the line of folk and country pop with graceful ease. Wheeler can produce a song of wrenching heartache ("Sylvia Hotel") just as easily as she can whip out a witty ditty ("My Cat's Birthday"). And though she purports to be a non-political person, Wheeler is a spigot of strong opinions. Just ask. She'll tell.
METRO WEEKLY: Let's start with a brief musical history. What drew you to a musical career?
CHERYL WHEELER: The first instrument I ever played was a ukulele. I was helping my friend clean out her attic, and into her trash pile she put this plastic ukulele with three strings. I said, "Can I have that?" She said, "Yes," and I picked it up. I had never played a stringed instrument. So I started playing it, which seems a little weird in hindsight, but it's not really that weird if you're a reasonably musical person. I played that for a year and then I got a real ukulele, a baritone. I begged my father for it — it was $20. I played that for a year and then got a guitar at 12. So that's how I started playing.
Anyway, the career. I am an incredibly lazy person and never thought in terms of a career. I thought in terms of how not to get a job. At some point, I realized that music had turned into my job. And sometimes it does feel like a job. It feels like a job when you have to get into an airplane, but it doesn't feel like a job when you're onstage.