"I set out to write well-rounded characters," says Dee Rees of her filmmaking debut, Pariah. "Each one has their own wants, their own needs, their own dreams. They don't just exist to make [the main character's] life hard or help her along the way."
That kind of thoughtfulness about character imbues Pariah with a common poignancy. As Adepero Oduye, the actor who plays the budding lesbian Alike, explains, it helped her understand what's fueled the movie's growing popularity.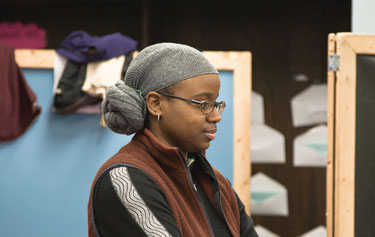 'Pariah' director Dee Rees
(Photo by Jenny Baptiste)
"I already understood that feeling of not being free, not feeling like you belong, trying to find your place in the world," Oduye says. "What's been really cool, though, is seeing how something so specific has been so universal. You don't have to be young, you don't have to be black, you don't have to be gay to relate to Pariah. It's been an awesome discovery."
Pariah's been one hell of an entrance for director Rees and actress Oduye. The coming-of-age story about a black lesbian teen got a standing ovation on the opening night of the Sundance Film Festival last January and was immediately snatched up by Focus Features.
The process to make Pariah began up in 2005, when Rees first wrote the script. From there, she made a short of the piece, followed by a stint at the Sundance Institute. Through a series of lab programs that teach screenwriting, directing and producing, Rees was able to fine-tune Pariah and hone her craft. And while Rees already had a mentor in Spike Lee, under whom she interned while attending NYU's film school, the programs undeniably advised the production.
"In a lot of ways, it's harder making a short because you don't have a lot of time to show the characters, or explain who they are," Rees said. With the feature, "we had the chance to add a lot more, and it was good because it was always intended to be a longer piece."
Pariah opens Friday, Jan. 6, in D.C. at the Landmark E Street Cinema.