Tim Day, an openly gay Republican who ran against former Councilmember Harry Thomas, Jr. (D-Ward 5) in 2010, announced his candidacy for the May 15 special election to replace Thomas.
Day, the only announced Republican in a field of 18 candidates, made the announcement on Channel 8's "NewsTalk with Bruce DePuyt" on Thursday morning. Later, Day took to Twitter just before noon to respond to a tweet from LGBT activist Bob Summersgill that asked when Day was going to inform the D.C. Board of Elections and Ethics of his candidacy.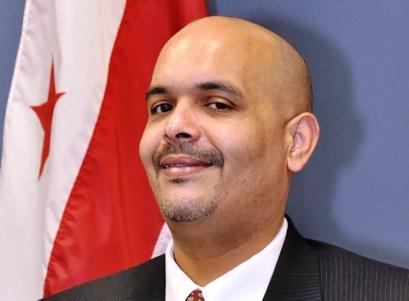 Tim Day
In response to Summersgill, Day tweeted, "heading to DCBOEE now and than [sic] to OCF," referring to the District's Office of Campaign Finance. He also posted a picture of himself talking to an employee at the D.C. Board of Elections and Ethics.
Thomas resigned on Jan. 5 after pleading guilty to embezzlement and tax fraud related to his taking of more than $350,000 in city funds that had been earmarked for youth sports programs to use for personal expenses, and failing to report that money as income on his tax returns.
Day, a Brookland resident and accountant by trade, was one of the first people to question Thomas's fundraising for a nonprofit he founded, known as Team Thomas, that was ostensibly intended to be used to fund those youth programs.
Following Day's questions and several inquiries by Washington media outlets, D.C. Attorney General Irvin B. Nathan sued Thomas for misappropriating $300,000. Thomas did not admit guilt, but agreed to pay back the money in six separate installments, only one of which he made before announcing his resignation from the council and pleading guilty to the charges against him.
Thomas was considered by many political observers to be an ally of the LGBT community after he voted for the District's marriage equality law and campaigned on his support for the measure even as he faced opposition in his conservative ward. One of his Democratic primary opponents, Delano Hunter, was endorsed and received some money from the National Organization for Marriage, an organization that opposes marriage equality.
As a result, Thomas received large amounts of support in precincts that, according to the U.S. Census bureau, have large numbers of same-sex couples, and are suspected to contain a substantial portion of LGBT residents.
For instance, during the 2010 primary, Thomas received 52 percent of the vote in Precinct 135, with another 37 percent going to primary opponent Kenyan McDuffie, who lives in that precinct and is also a supporter of marriage equality. In nearby Precinct 19, Thomas received 58 percent of the vote, with McDuffie grabbing another 27 percent. Hunter received 5 percent and 10 percent of the vote, respectively, in those precincts.
Similarly, in Brookland's Precinct 73, Thomas received 66 percent of the vote to Hunter's 16 percent, with another 13 percent going to McDuffie. In neighboring Precincts 69 and 70, Thomas received 75 and 60 percent of the vote, respectively, compared to Hunter's 12 and 23 percent, with McDuffie gaining 10 and 14 percent, respectively.