Gay men perhaps know West Hollywood-based filmmaker Ryan James Yezak for his music video tributes featuring nearly naked gay men lip-syncing songs like Katy Perry's "Peacock" and Kesha's "We R Who We R."
On Martin Luther King Jr. Day this year, however, Yezak unveiled a video titled "The Gay Rights Movement," which presents a collage of contemporary LGBT film and TV footage along with a plea asking viewers to help raise $50,000 for Second Class Citizens, that quickly went viral. Yezak's planned documentary, he writes, plans to address the "many areas in which gays, lesbians, & bisexuals do not have the same rights & opportunities as others in society."
In just three days, Yezak's video gained more than a million views on YouTube and raised almost double his goal, securing more than $96,600 in donations by this afternoon. Shared more than 120,000 times on Facebook and reposted on many LGBT blogs nationwide, it was a viral "success." Yezak's video, however, also captured the attention of LGBT bloggers Pam Spaulding of Pam's House Blend and Karen Ocamb of LGBT POV, who criticized Yezak's video for excluding lesbians, transgender people and people of color in his presentation of "the gay rights movement."
Spaulding noted:
"[Watching the video] You'd think lesbians are practically non-existent in the movement. And it's definitely "gay rights" only — don't expect anything related to trans folk here either …. And people of color? Well, aside from Dr. Martin Luther King, Jr. … if Dan Choi hadn't been in the DADT-related clips, then the vid would have been a complete whitewash. It's kind of sad."
Ocamb wrote:
"If the LGBT movement for civil rights is constantly portrayed and perceived as rich, white and highly sexualized younger gay men — what about the rest of us second class citizens who don't fit that mold? We're part of LGBT history and the movement, too, and have long struggled against invisibility both inside and outside the movement."
Yezak has not yet responded to multiple requests from Metro Weekly for comment. Metro Weekly examined the seven-minute video and made a count of the diversity of LGBT people featured in each frame. The count includes every person visible without counting the many people shown within large crowds.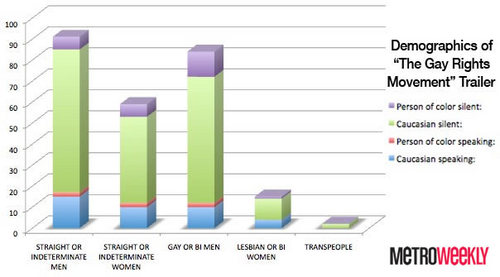 Even in counting the people in Yezak's trailer video, however, it is difficult to know how to categorize the sexual identity of straight actors playing gay characters and how to identify unknown trans, gay or bisexual people simply by looking.
Also unknown, particularly in light of Yezak's nonresponsiveness to Metro Weekly and others' inquiries, is what his final film will look like given that he has called the video is just the first of five videos he plans on releasing to support Second Class Citizens and not actually the film's trailer. Also, the video is only seven minutes long and comprised entirely of others' footage, which would require permission or paid licensing, rather than his own original footage.
Yezak's fundraising page only mention his desire to portray only the struggles of gay, lesbian and bisexual people. Nevertheless, his trailer does include separate images of Chaz Bono, a trans man, and Vandy Beth Glenn, a trans woman, suggesting that trans people may figure at least somewhat into his final vision despite not being mentioned on the fundraising page.
The concern — expressed by Spaulding, Ocamb and others — is that his final documentary will convey LGBT issues as mainly concerning gay white men as opposed to the many races, genders and gender identities fighting inequality throughout the LGBT community. And, though hardly the first to do so, bloggers and others appear to be more directly raising the question of whether that is the correct path now.
A report by the Gay and Lesbian Alliance Against Defamation revealed that the majority of LGBT characters portrayed on cable and broadcast television in 2011 were gay white men, with far fewer people of color and only one trans character appearing on the small screen.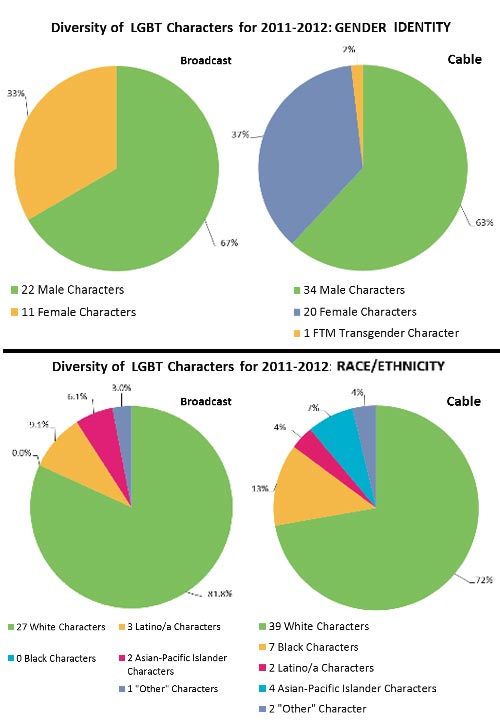 Even the Center for American Progress recently issued a report acknowledging that the ongoing media focus on marriage equality fails to address the "stark social, economic, and health disparities [that black gay and trans American face] despite significant gains in securing basic rights for LGBT people over the last decade."
Considering that Yezak's trailer used mostly television footage, the GLAAD and CAP reports add to the question of Yezak's goals another question of what footage — and how much diversity — was available to him.
Author's note: The original version of story incorrectly called Yezak's seven-minute video a trailer for his yet-to-be-made documentary. According to his Facebook page it is simply the first of five videos he will release to build support for the film.
WATCH the video:
Get Poliglot and more in your inbox. Join our mailing list.
Opinionated? Take our latest Metro Weekly poll. Win free movie passes!