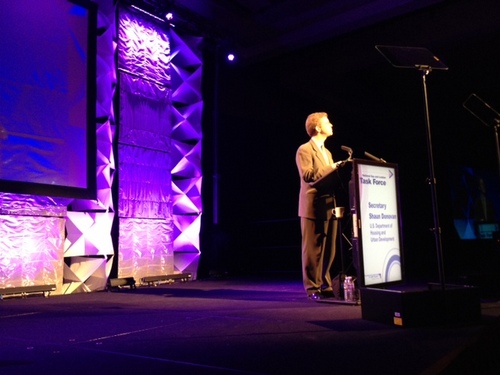 [Photo: HUD Sec. Shaun Donovan speaking at Creating Change. (Photo by Chris Geidner.)]
Housing and Urban Development Secretary Shaun Donovan today told those LGBT advocates gathered for the Creating Change conference taking place in Baltimore, Md., "HUD has been a leader in the fight … for equality." As part of that, he announced that the federal housing program anti-discrimination regulation announced in January 2011 has been finalized and will be published in the Federal Register on this coming week and go into effect 30 days later.
"Today, I am proud to announce a new equal access to housing rule that says clearly and unequivocally that LGBT indivduals and couples have the right to live where they choose," he told the audience, which rose to its feet with applause.
Donovan detailed that the rule, saying that it includes a new equal access provision that prohibits discrimination in HUD-backed housing programs. It also, he said, guarantees that LGBT individuals are eligible for HUD's public housing programs and states that discrimination is prohibited on the basis of sexual orientation and gender identity in all Federal Housing Administration-backed loans — which Donovan said constituted 40 percent of all loans for Americans who bought a home last year.
Calling housing a "critical link," the National Gay and Lesbian Task Force's executive director, Rea Carey, introduced Donovan at the Task Force's Creating Change today.
Of his news that the rule had been finalized and would take effect soon, she said in a statement, "This policy announced today by Secretary Donovan will literally save lives. LGBT people and their families all across the country depend on HUD programs to have a roof over their head. Unfortunately, there are landlords out there who would choose to discriminate, putting families in peril."
She added, "These housing protections will reduce homelessness and increase economic security for LGBT people, which helps break the cycle of poverty that many families experience due to discrimination."
In beginning his remarks, Donovan noted, "The progress we've made together reminds me" of the emphasis that President Obama has placed on LGBT people, focusing first on the repeal of "Don't Ask, Don't Tell" and the fact that an active duty colonel, who is an out lesbian, attended the State of the Union this past week as a guest of First Lady Michelle Obama.
He also described other accomplishments of the administration at large, as well as specific advancements mad by HUD. In addition to the final rule publication, Donovan cited, among other accomplishments, the HUD study — the first of its kind — assessing LGBT discrimination in housing across the country.
Of the news, the National Center for Lesbian Rights's federal policy director, Maya Rupert, said in a statement, "This rule is truly historic for the LGBT community and the impact it will have on all of our lives cannot be overstated. Thanks to the remarkable efforts of the Obama administration, and especially HUD Secretary Shaun Donovan and Assistant Secretary John Trasviña and their staffs, LGBT people and their families will now enjoy critical protections from housing discrimination based on sexual orientation and gender identity."
She added: "This will improve the lives of countless families and individuals across the country who no longer have to fear being denied housing because of who they are. We applaud HUD for its leadership and commitment to fairness and justice."
UPDATE @ 3:30P: National Center for Transgender Equality policy counsel Harper Jean Tobin said in a statement, "This is a major and urgently needed advancement in basic protections for transgender people. NCTE is calling on other federal departments to follow HUD's common-sense approach and use existing legal authority to prohibit discrimination against LGBT people in the programs they fund and administer. We applaud Secretary Donovan and the Obama Administration for this much needed relief for transgender people."
In a statement issued by the Human Rights Campaign, president Joe Solmonese said, "The new regulations from HUD will help protect LGBT people and our families in one of the most fundamental aspects of life – finding and keeping a home. This common sense action will help some of the most vulnerable people in our community in trying to make homes for themselves and their families."
READ Sec. Donovan's full speech here.