One of First Lady Michelle Obama's guests tonight at President Obama's State of the Union Address will be U.S. Air Force Colonel Ginger Wallace — the first U.S. servicemember following the end of "Don't Ask, Don't Tell" to have her partner, Kathy Knopf, participate in her "pinning" promotion ceremony.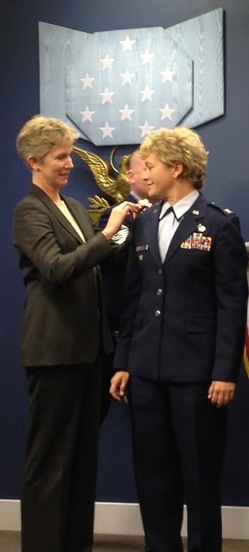 In a statement today from Servicemembers United, Wallace said, "Kathy and I are honored and humbled to represent the many thousands of gay and lesbian Americans who are currently serving, have served, and will serve in the armed forces, as well as their partners and spouses who are an equally important part of our military community."
Wallace will be joined in the First Lady's box tonight by several other invited guests, including Lorelei Kilker, a lesbian who fought sex discrimination by her former employer and spoke with Metro Weekly on the eve of the president's address.
Servicemembers Legal Defense Network executive director Aubrey Sarvis said in a statement, "This is a clear victory in the fight to achieve full equality for service members. In his 2010 State of the Union, President Obama committed to repealing 'Don't Ask, Don't Tell,' and indeed, it would not have been possible without his determination to do so."
Of the invitation, Wallace said, "Tonight is not about us, but rather about what we represent and how far we have come, thanks in part to the hard work of the President and many members of Congress in attendance tonight. I also feel privileged to be sitting in the company of the First Lady, herself a champion and advocate for military families, and to be publicly and proudly included without Kathy and I having to fear the loss of my career and our family's livelihood as a result."
Alex Nicholson, executive director of Servicemembers United, said, "We could not be more proud of Ginger for her accomplishments, her poise, and now her selection for the honor of sitting with the First Lady to watch tonight's State of the Union address in person. She and her partner Kathy are the best role models our community has to offer, and we could not be more pleased that they have been chosen to represent us on such an historic and high-profile occasion."
Sarvis, whose organization has sued the Department of Defense challenging the denial of equal spousal benefits for same-sex partners of servicemembers, added, "Even as we celebrate this milestone tonight, let us not forget that our work is far from done. While gay and lesbian service members may now serve openly if they choose, they are still not serving equally. They are without the same protections from harassment and discrimination that are afforded others, and legally married gay and lesbian service members do not receive the same recognition, support, and benefits for their families as their straight married counterparts. We must keep fighting until the mission is complete."
The end of DADT also did not end discrimination against open transgender military service, which SLDN includes among its ongoing goals but Sarvis did not mention in today's comments in advance of the president's State of the Union Address.
[Photo: Knopf (left) and Wallace (Photo courtesy of Servicemembers United.)]