Ward 5 Councilmember Harry Thomas Jr. (D), generally perceived as an ally to the District's LGBT community, resigned from the council late in the evening, Saturday, Jan. 5, as expected, following plea agreement in which the embattled councilmember pleaded guilty to embezzlement and tax fraud.
Thomas came under scrutiny for taking more than $350,000 in city funds that had been earmarked for youth sports programs and using it for personal expenses, and for failing to report that money as income on his tax returns. After being sued by D.C. Attorney General Irvin Nathan for a sum of $300,000, Thomas agreed to repay that amount in six installments.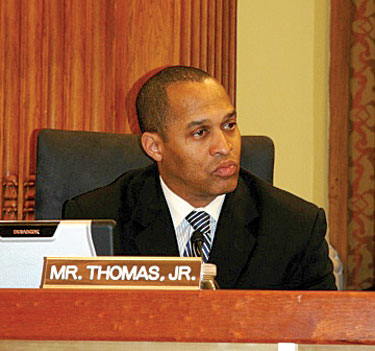 Harry Thomas, Jr.
The LGBT community supported Thomas for voting for the District's marriage-equality law. He campaigned on his support for the measure even as he faced opposition in his conservative ward during a campaign that saw one of his opponents backed by the anti-gay marriage group, the National Organization for Marriage.
LGBT support for Thomas was, however, far from universal. Following the announcement of Thomas's resignation, the District's gay Republican group, DC Log Cabin Republicans, celebrated the event.
"Today, as a result of research first compiled by DC Log Cabin member Tim Day, a former candidate for DC Council Ward 5 in 2010, the Council has one less ethical issue with which to be concerned," Log Cabin President Robert Turner II said in a prepared statement. "The bad news for taxpayers is that we now must spend taxpayer dollars on a special election on top of our regularly scheduled elections this year. The good news is that the 'King of Misappropriations' is finally gone."
The Gertrude Stein Democratic Club, the local Democratic LGBT political organization, which had endorsed Thomas in 2006 and 2010, issued a statement Jan. 7 saying the group was "relieved" that Thomas had resigned in order to spare the District, and his ward, from dealing with the consequences of his actions.
"While we are saddened that someone who many in our community supported and had high hopes for fell short of our collective ethical expectations for public officials, our primary concern is with the residents and youth of Ward 5," Stein Club President Lateefah Williams said in the statement. "Thus, it is our desire that the District government move forward in an expeditious manner to ensure the residents of Ward 5 have adequate representation.
"We plan to stay engaged in the process to ensure the next Ward 5 councilmember is both a strong supporter of gay, lesbian, bisexual and transgender rights and a person who holds himself or herself up to the highest ethical standards."
According to D.C. municipal regulations, once the Board of Elections and Ethics certifies that a seat is vacant, a special election is held on the first Tuesday occurring more than 114 days after the vacancy becomes effective.
Since there is no provision in D.C. municipal regulations for appointing a replacement or interim councilmember of a ward seat, Thomas's seat will remain vacant until the special election occurs.
At-Large Councilmember Vincent Orange (D), who represented the ward prior to Thomas, hosted a community meeting late in the evening Jan. 9 at Israel Baptist Church in Northeast D.C. to rally Ward 5 residents and assure them that they would not be neglected while the seat remained vacant. At-Large Councilmembers Phil Mendelson (D) and Michael Brown (I) were also in attendance.
The meeting also served a political objective, allowing potential candidates to check out the competition and subtly begin the unofficial campaigning for votes. Various community leaders, activists, advisory neighborhood commissioners and former candidates for political office, including a number of Thomas's 2006 and 2010 opponents who have been speculated to be considering a run, were spotted among the crowd.
LGBT residents of Ward 5 who were not in attendance at the meeting expressed mixed emotions over Thomas's resignation.
"Harry Thomas Jr. did the right thing because he felt he was not serving the best interests of the ward," Bloomingdale resident Bill Shiebler said. "This is the type of action we need to see from other members of the Council who have found themselves in these types of scandals."
But Edgewood resident Jane Lincoln, a former Thomas supporter, expressed regret over the scandal.
"I am very sorry that Harry Thomas got himself in this kind of trouble," Lincoln said. "Ward 5 had an ally in Harry Thomas. I hope that our next City Council representative is going to represent his or her LGBT residents. It is time for equality to be a given in D.C."