For Daniel Wein, it's all about love and commitment.
The George Washington University sophomore admits he's a fervent LGBT rights activist, so much so that he ditched class last year to go to Capitol Hill and hear the "Don't Ask, Don't Tell" Senate hearings. But even he admits that "gay marriage" has become a stigmatized term and a "buzz word" in a society with a large segment of the population who view the concept unfavorably.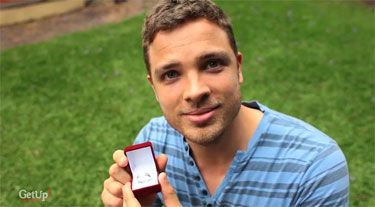 But when he was home during Thanksgiving break, Wein ran across an Australian ad from the equal rights organization Get Up promoting marriage equality on YouTube. The video, titled "It's Time," uses a series of wordless video clips set to a soft soundtrack to portray a romantic relationship with a young man through the eyes of an unseen person.
In the commercial, the man and the unseen person go on dates, greet friends, ride a roller coaster, have spats, meet family members, and provide support for each other during bad times. Only at the end of the video, after the man proposes with an engagement ring, is the observer revealed: It's another man.
The ad has earned more thatn 4.7 million views, and has been posted online by celebrities such as Madonna.
Wein says the ad touched him deeply.
"For so long, same-sex marriage has been framed around legal rights and benefits," Wein says. "This commercial reframes the marriage issue to focus on the love and commitment shared between two people that very few non-gay people are ever exposed to. The audience doesn't know they're watching a marriage equality ad – it beats them to the punch in a very important way."
But Wein wanted other Americans to see the ad, saying he thought that if more people could see an illustration of love and commitment in a same-sex couple, they would become more supportive of marriage equality. So Wein put together a Facebook page promoting the ad's airing on U.S. television.
From there, he made contact with two digital strategists – one in Washington and one in New York – and an Australian-born Washington-based lawyer who wanted to help him in his quest. The four have since become the board members of an organization called It's Time Marriage Equality (ITME), which has gained the U.S. legal rights to the commercial from Get Up.
Wein says he's raised several thousand dollars through a donation link on Facebook, and plans to raise enough to run the ad on American television. He's hoping to collect at least $50,000.
In the meantime, ITME will be looking to partner with state and local organizations to organize some sort of campaign, as the video is intended to be a call to action. What shape that message will take has yet to be decided, he says.
"I think there's a lot of potential to bring this message to a larger audience," he says.