Two hundred people of faith gathered in the city of Frederick yesterday to tell legislators the time has come to legalize civil marriage for gay and lesbian couples.
Several Maryland officials attended the packed meeting including Attorney General Doug Gansler, Delegate Galen Clagett (D-Frederick Co.), Senator Ron Young (D-Frederick & Washington Cos.) and Senator Rob Garagiola (D-Montgomery Co.). They were given standing ovations by a diverse audience — Christian and Jewish, all ages, straight and gay.
[See related: Doug Ganlser at Frederick gay marriage rally.]
[Also see: Galen Clagett and Ron Young support marriage equality in Frederick.]
An announcement for the event listed a coalition of five sponsoring congregations — All Saints Episcopal, Grace United Church of Christ, Congregation Kol Ami, Unity in Frederick, and Evangelical Reformed United Church of Christ. The latter also served as host for the Jan. 29 event.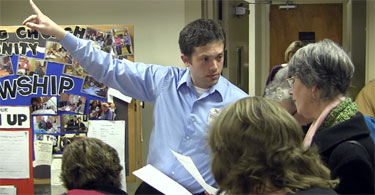 Manley Calhoun of Marylanders for Marriage Equality was also in attendance informing eager participants on ways they could work for the cause.
A number of same-sex couples shared their personal stories at the hour-long event. They told the officials about their needs as residents of Maryland and how they have dealt with the "trials and tribulations of not being married." Couples related their faith to real-life challenges, like: partner recognition at health care facilites, financial and legal inequalities, and dealing with situations involving children and other family members.
In stark contrast to the Frederick rally, an anti-gay protest is being held today, Jan. 30, from 5-6 p.m., next to the Annapolis State House. It promises to bring together a number of religious and political groups clamoring to keep a ban on gay marriage. These will include the Archdiocese of Maryland, the National Organization for Marriage and, allegedly, a large contingent from at least one of Maryland's (unspecified) black churches.
It is expected that the state Senate will pass a pending marriage equality bill with strong approval by Governor Martin O'Malley. However officials at Sunday's rally reminded attendees there is a "tough road ahead," with less certainty among House members who seem beholden to vocally anti-gay members of their constituencies. Should marriage pass, there will most certainly be a voter referendum to follow, and Gansler projected that they matter will end up in the court system. Warriage supporters would then battle over the Constitutionality of Maryland's discriminatory ban.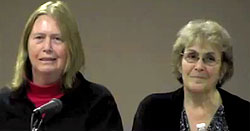 Dr. Linda Sowbel and her partner of 34 years, Betsy Van Ness, shared their family story. They have two daughters with son-in-laws and five grandchildren. Sowbel said, because they are not legally married, she had to put their home and assets into trust to avoid unfair taxing, and said they will not be eligible to receive certain retirement benefits. They shared an amusing tale of how Sowbel adopted Van Ness' daughters for estate reasons, but also the uncertainty they had to face with hospital visitation rights and the "additional anxiety" that situation caused. Van Ness concluded her speech with:
"We know we could go Washington, DC, or Massachusetts to get married. But we don't want to do that. We are Maryland citizens, and we want to get married in Maryland."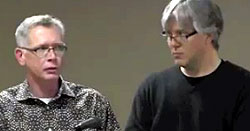 Glen Wallace and Jim White, members of the Evanglical Reformed UCC, said they became a couple 15 years ago, and they also had to pay thousands of dollars to obtain legal recognition regarding medical issues. Those legal rights are essentially conveyed to male-female couples through the low cost of obtaining a marriage license.
Rosalind Jack told the audience and legislators that she had been married to a man previously, but when she fell in love with a woman, she learned that there were major legal, financial and social differences between the two types of relationships. She said, for example:
"I did not have to worry about being turned away from his hospital bed, or from making health choices. With a woman, I could be her partner for 90 years and not be allowed at her bedside if she were ill, hurt or dying, because I might not even be considered her family."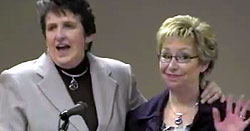 Her partner, Paula Willey, echoed those same types of concerns with regards to assisted living facilities, Medicaid coverage, and also the unfortunate possibilty of unwarranted family intrusions. She said:
"My Will and Power of Attorney are legal documents. They protect me, and they protect Roz. But without marriage equality, they are vulnerable to challenges from disgruntled family members. And I have those!"
[See related: Doug Ganlser at Frederick gay marriage rally.]
[Also see: Galen Clagett and Ron Young support marriage equality in Frederick.]