A distribution manager for Metro Weekly was killed in a single-car crash near the intersection of 4th Street and Massachusetts Avenue NE in the early morning hours of Friday, Jan. 27.
The driver has been identified as 50-year-old Gary Teter. Teter's partner, Dennis Havrilla, told Metro Weekly that he had identified the body and that the crash was low-impact, meaning the crash was not likely the cause of death, but the result of other trauma.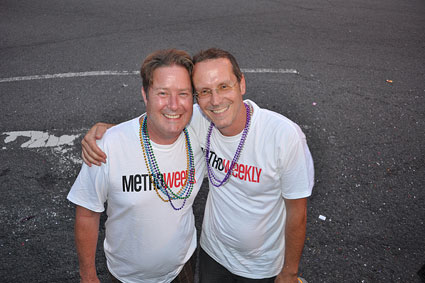 Gary Teter (l) with Dennis Havrilla at the 2010 Capital Pride Parade
(Photo by Ward Morrison)
Havrilla also told Metro Weekly staffers that paramedics had tried to revive Teter at the scene.
According to initial reports of the accident from WJLA.com, the crash led police to close off a portion of the 300 block of 4th Street NE. The reports said the victim was taken to Howard University Hospital via ambulance.
A spokeswoman for the Metropolitan Police Department said the victim had been transported to the hospital, and confirmed there was a fatality. The accident is being investigated by the MPD's Major Crash Unit.