What a year it's been, and Mr. Mid-Atlantic Leather 2011 Doug "D" Pamplin couldn't be happier. From his base in Pittsburgh, Pamplin has taken the title far and wide representing MAL, on the road 40 weeks out of 2011.
"My year has been one of the most exciting, the best within my leather journey," says Pamplin, who adds that work also keeps him on the road. Certainly that can't be as much fun as he's had with the title.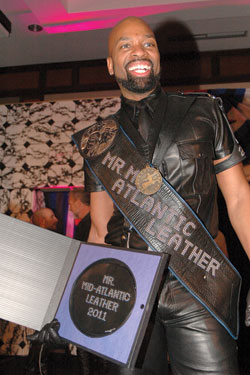 Doug Pamplin: Mr Mid-Atlantic Leather 2011
"The highlight has been just going to places and representing the title, especially where people have never seen titleholders from big events. I've crossed the pond, gone to Germany, to Manchester and London, to Ireland. In the states, I've gone as far west as San Francisco, Palm Springs…. You name it, I've probably been there. Spending time in Germany with the Sisters [of Perpetual Indulgence] collecting money at the gate at Folsom Europe during the weekend after Labor Day was an awesome event."
And though Pamplin said at the time of his win that he'd use the title to raise awareness of hunger, that got a tweak over the course of 2011.
"That's what I was feeling at the time," he says, explaining that he learned there was still much to be done in simply educating people in the LGBT community and beyond about what it means to be a leatherman. "In Pittsburgh, people of color, minorities, we struggle in the leather community to find our own ways. I started trying to be the light in other people's darkness. By wearing that [MAL back] patch, it makes conversation very easy. This is not just a 'man of color' thing; it's a community thing. There was no question I couldn't answer – I've been there myself."
He underscores his philosophy by going by "D," which he points out is not short for Douglas, but for daring, dreaming and delivering. He looks to the same words when considering advice for the next Mr. MAL.
"They're simple words," he says. "You've got to be true to yourself. You're going to want to do everything, and you won't be able to. But anything you commit to, be sure to carry that commitment through. Dare, dream and deliver."
Through the fans and folks Pamplin's reached in 2011, he may be most proud of showing his mother his leather identity. On the other hand, it's Pamplin's mother who might have the pride. She is, after all, joining him in D.C. for MAL.
"Believe it or not, I'm getting my mom to join me for my step-aside," Pamplin shares with excitement. "She's thrilled. And I'm going to be an emotional mess. There's no other way to put it."