Astronomical Society Honors Kameny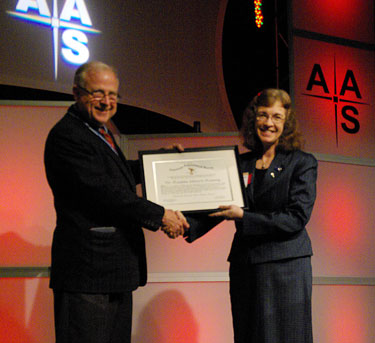 Frank Kameny's lifetime efforts to ensure equal employment rights for all were inscribed on a certificate of appreciation presented on the behalf of the American Astronomical Society at its 219th semiannual meeting, Jan. 8 to 12, in Austin, Texas. Charles Francis, cofounder of the Kameny Papers Project, accepted the certificate.
"The American Astronomical Society, in light of its commitment to diversity and equality, hereby honors the memory of the astronomer Dr. Franklin Edward Kameny for his exemplary lifelong commitment to promoting equal rights for homosexual men and women," it reads.
An astronomer, Kameny was fired from his position with the U.S. government in 1957 because he was gay, leading to decades of political activism to advance the cause of gay rights.
"I know how much he would have loved the opportunity to close this one final circle in his life," Francis said when he accepted the award on behalf of Kameny, a member of the society before his death in October 2011 at age 86.
2012: A Year for Youth
Youth Pride Services, along with an array of local and national organizations including Advocates For Youth, Coalition For Queer Youth, Gay & Lesbian Alliance Against Defamation (GLAAD) and Campus Pride, have launched "Year For (You)th," the first phase of the National Strategy For Black Gay Youth, which focuses on 2,500 black gay youth, painting a national picture of what it is like to grow up black and gay in the United States.
National youth leaders spent Martin Luther King Jr. Day recruiting peers to get involved. Youth from 25 states, including Maryland in the D.C. area, are active participants in the survey, which has been distributed via Twitter, Facebook, YouTube and SMS texting services.
Youth interested in participating in the survey may complete it here.
Coloradans Refused Care
"Invisible: The State of LGBT Health in Colorado," a research study conducted by the One Colorado Education Fund, has unveiled significant findings about LGBT health care in the Centennial State.
The study, released Jan. 19, which surveyed 1,300 LGBT Coloradans, found that 21 percent have been refused health care services in the state.
The study also found that only 59 percent feel secure while expressing their sexual orientation or gender identity when seeking medical care, and 28 percent cite sexual orientation "sometimes or often" hampers any attempt at seeking health services.
The study also offers several recommendations to the LGBT community and health care professionals in an attempt to better the community's overall health.
"Lesbian, gay, bisexual, and transgender Coloradans are often hidden, rarely studied, and poorly characterized," said Brad Clark, One Colorado Education Fund executive director. "This study begins to fill that gap, offering a look into how LGBT people are treated when they access health care services in the state."