With a cold wind blowing, summertime's Capital Pride Festival and Parade may seem a world away. To pull together one of the city's grandest annual events, however, the folks behind Capital Pride are on the move.
Notably, organizers have begun registering all those who hope to participate in the festival or parade, from vendors to entertainers. And registration fees are discounted through Jan. 31.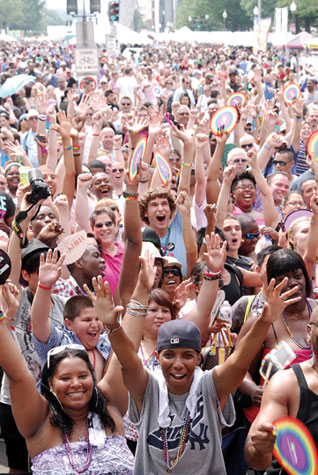 The first month of 2012 also has Capital Pride in the kitchen and throwing a kick-off party.
Monday, Jan. 23, Capital Pride is inviting those looking for a little dolce vita to Tortino, the recently opened Italian bistro at 1228 11th St. NW for "Taste of Pride Night." Michelle Mobley says it was just a matter of Ryan Bos, Pride's executive director, stopping in for a bite one night. He invited Tortino to launch "Taste of Pride" this year and the restaurant accepted. That means that anybody heading to Tortino for dinner Jan. 23 may have 10 percent of the bill donated to Capital Pride. Further, the restaurant is crafting an already discounted $35 three-course menu for the event ­ – one Mobley says they hope to recreate.
"We'll do anything that Ryan asks us to do," she says. "We're happy and thrilled to be the first [Taste of Pride] restaurant of the year."
More happiness and thrills may be on offer Tuesday, Jan. 31, as Capital Pride presents its 2012 Volunteer Kick Off event from 7 to 8 p.m. at Redwood Century 21, 1701 Q St. NW. Capital Pride committee chairs will be on hand to advise those interested in the nearly overwhelming array of options for pitching in.
For more information about Capital Pride, including registration and volunteering, call 202-719-5304 or visit capitalpride.org.