The heyday of biker gangs and leather daddies is so 1970s.
While leather, boots and a jockstrap used to be de rigueur attire for Mid-Atlantic Leather weekend, chances are you'll see more than a few attendees rejecting traditional MAL attire for a wrestling singlet and kneepads.
Just ask Kelev Sprinkle. Or, rather, just see him in a makeshift "mosh pit" crawling on the floor, barking like a dog, play-fighting and catching a ball.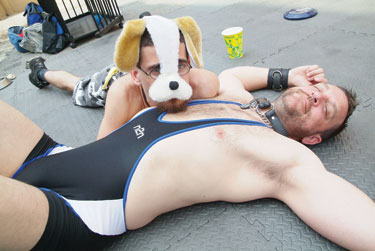 It's called puppy play. And it's one of the newer and growing niches of the BDSM lifestyle.
"You can let all your cares and worries go," Sprinkle says. "It's basically role-play, so just have fun with it."
Enticed by the puppy play scene two-and-a-half years ago after his boyfriend put a puppy mask on him while at the Eagle, Sprinkle now embraces it as a regular routine with his partner, also known as his handler.
Sprinkle has to use a pup mask or hood to get into the correct headspace to act like a pup, though he acknowledges that pup gear can be very expensive.
Rick "Pup Tripp" Hutchings finds puppy play "liberating" because it allows him to completely let go of his inhibitions. He adds, however, there's some training involved in acting like a puppy. The handlers are tasked with setting specific rules for their pups to obey, although the pups – generally the submissive partners – are allowed to talk to each other freely.
Tom Buckley, a handler since 1999, says it's up to handlers to communicate with their pups in order to find out what they are seeking to gain from puppy play and negotiate the terms of their relationship. The handlers are also tasked with disciplining the pups when they misbehave and training them to follow orders.
Buckley notes that D.C. is particularly accepting of the puppy culture and other alternative fetishes, and expects to see more people embracing them in the future.
"Not everybody's into the old-school leather scene," he says.
Sprinkle adds that there's been some "grumbling from the old guard" within the leather/BDSM lifestyle when they see puppies taking over leather events. However, pup play has generally been accepted as a new fetish.
"Puppy play is breathing a whole bunch of new life into the BDSM community," he says. "We're just there to have fun."
The MAL Puppy Mosh runs 1:30 to 3:30 p.m., Saturday, Jan. 14, at the host hotel, Regency Ballrooom B.