Sitting with First Lady Michelle Obama at President Obama's State of the Union Address this evening will be Lorelei Kilker, a woman who came forward to challenge discriminatory treatment at her workplace and, after several years, was part of a settlement the Equal Employment Opportunity Commission reached with the employer in October 2011.
Kilker and her partner, Sara Nelson, are traveling to D.C. from Colorado today, and Kilker's case, though being touted as a sign of the administration's success, is a stark sign of current limitations of the law for LGBT employees in the workplace – limitations that advocates believe President Obama could take a significant swipe at with the stroke of a pen.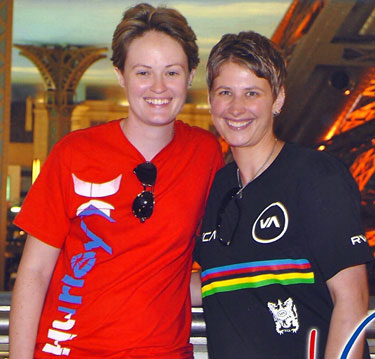 Kilker (left) and Nelson
(Photo courtesy of Lorelei Kilker)
As Kilker told Metro Weekly the night before the State of the Union, her challenge to the sex-based discriminatory policies of the Western Sugar Cooperative "took many, many years."
"I think I filed with the EEOC in 2006," she said. "I was being misled by management. I received harassing phone calls …. Then, it got to the point where they pretty much forced me to quit."
At that point, the EEOC "dug deep," Kilker said, and confirmed her concerns. Although the process took several years, the EEOC, according to a news release, found that Western Sugar "denied women training and promotions, gave them less desirable work assignments and segregated positions by gender, denied year-round employment, and paid lower wages to women at its Ft. Morgan, Colo., facility." It reached a $550,000 settlement with the company, which also agreed to change its policies.
Of Kilker's willingness to put herself through such a process, Freedom to Work president Tico Almeida says, "She deserves our admiration."
For the person who served as the lead counsel in the House of Representatives working on the Employment Non-Discrimination Act from 2007 to 2010, however, Almeida also sees the difficulties an employee like Kilker faces under the law in many states today.
If she had been discriminated against because she is a lesbian instead of because of her sex, Almeida notes, "She would have been turned away by the EEOC because they would not have had the legal authority to take her case."
Without ENDA, the EEOC cannot pursue settlements like the one reached with Western Sugar when the discrimination is based on sexual orientation or gender identity discrimination claims.
The government also has another route, though, in the case of a not insignificant number of employers. Because 22 percent of the jobs in this country are with employers who contract with the federal government, according to Almeida, the Department of Labor has some authority to redress discrimination by federal contractors.
Since 1965, when President Lyndon B. Johnson signed Executive Order 11246, the Department of Labor's Office of Federal Contract Compliance Programs (OFCCP) has ensured that all federal contractors doing more than $10,000 in government contract work in a year comply with the executive order's equal employment opportunity policy. This prohibits discrimination based on race, color, religion, sex, or national origin. It does not include sexual orientation or gender identity.
As such, even though Western Sugar has regularly exceeded $10,000 in federal contracts in a year, the Department of Labor could not have addressed a claim of sexual orientation-based discrimination at the company. OFCCP officials, Almeida said, "currently have to turn away claims" based on sexual orientation or gender identity discrimination.
But, Almeida and others have been pushing for Obama to sign an executive order that would expand Executive Order 11246 to include sexual orientation and gender identity discrimination. The move is similar to the expansion that President Bill Clinton made by adding "sexual orientation" to Executive Order 11478, which prohibits discrimination in the federal workforce, in May 1998.
As Almeida bluntly put it, sexual orientation or gender identity-based claims cannot be pursued by the OFCCP today because "[n]o president has yet signed the executive order to give them the authority to take [such] cases."
Of Obama's public strategy in recent months for addressing the inability to get legislation he supports through the Republican-led House, Almeida noted, "He's taken more than 20 executive actions under the slogan 'we can't wait.' It's time for him to provide workplace protections in the 22 percent of jobs that are [held by those working for federal contractors]."
A White House spokesman did not respond to a request for comment on Jan. 23 about the proposed executive order.
For Kilker, she said of being asked to attend the State of the Union, "It's overwhelming, and it is an honor. I couldn't believe when they asked me."
Arriving in D.C. today and leaving right away on Jan. 25, there won't be much time for tourism, and in the evening tonight, Kilker said of her and Nelson's plans, "I'll go to the speech and she'll stay at the White House with the other guests."
But, she also is looking forward. Of ENDA, "There's always more to be done." And, she said, "There should be an executive order. I definitely think that it should [be signed]."
Although Almeida wants the executive order to be signed, he also noted another way the president could acknowledge ongoing LGBT workplace inequality.
"I hope that, in the context of talking about how our country has so much to do … the president will talk specifically about how LGBT Americans have no protections on the job," he said. "The president can do really important public education to correct the mistaken notion — held by 90 percent of Americans — that ENDA is already the law of the land."
For Kilker, who is raising two children with Nelson, she said that the message that she hopes her children take from her being honored today is simple.
"The main thing is: equality. Whether it's me fighting for equal pay for women or gay rights, it's equality," she said. "That's what I try to instill in them every day."