Even his vote in favor of marriage equality may not be enough to salvage Councilmember Harry Thomas Jr.'s (D-Ward 5) political career among his LGBT constituents.
The two-term councilmember has been the subject of an investigation and several unflattering headlines regarding his alleged misappropriation of $300,000 in government funds intended for charities and youth sports programs. After being sued by D.C. Attorney General Irvin Nathan, Thomas agreed to repay the $300,000 in six installments.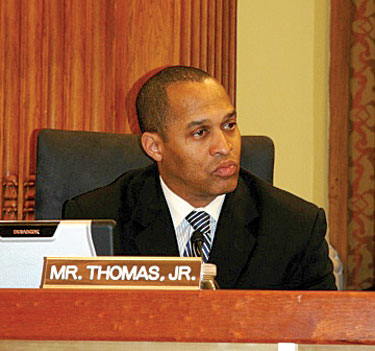 Harry Thomas, Jr.
As a result, Thomas is being threatened with a recall election, spearheaded by a group of local activists previously associated with former Mayor Adrian Fenty. Lead organizer Frederick Butler says he plans to file papers calling for a recall election by the end of the week.
According to information from the D.C. Board of Elections and Ethics, as of December 2011 there were 59,914 registered voters in Ward 5, meaning organizers of a Thomas recall would need to collect about 6,000 valid signatures.
In times of trouble, politicians tend to rally their base supporters. But while Thomas has previously enjoyed the support of the LGBT community, that once strong base of support is showing some signs of erosion. The controversy over Thomas's ethics and legal problems is igniting debates within Ward 5's LGBT community about whether Thomas is a true-blue supporter or pandering politician trying to trick the LGBT community into supporting him as the sensible alternative in this socially conservative ward.
Bloomingdale resident David Lippe, who is gay, says it doesn't shock him that Thomas has tried to position himself as an ally to the LGBT community, especially in the western part of the ward, which has seen an influx of newer residents, many of them gays and lesbians.
"I think Harry Thomas realizes the importance of the gay and lesbian community in Ward 5," Lippe says. "That's what pushes him to be – or at least market himself as – gay-friendly."
But Lippe also says he views it as more of a political calculation on the part of Thomas rather than a genuine motivation to do the right thing for LGBT residents.
Lippe also says he believes the "embarrassment" of residents over the allegations against Thomas will overpower any residual support Thomas has if a recall election comes to pass.
But Jane Lincoln, a lesbian living in Edgewood with her partner and two teenage children, says she'd just as soon have Thomas stay in office, even though agreeing to pay back the $300,000 gives more weight to the allegations against him.
"Since he's paying back what he misused or took, I assume that seems to imply he shouldn't have done it in the first place," she says.
On the other hand, she says she feels that Thomas has a record of standing up for the LGBT community rooted in a "genuine change of heart" and a move toward a more progressive position on LGBT rights. She cites his vote to legalize same-sex marriage and his willingness as an ANC commissioner to allow an AIDS hospice in the ward despite opposition as examples of that support.
"He put his neck out for us," she says, "so I'm much more willing to cut him some slack."
Bill Shiebler, another gay Bloomingdale resident, thinks a recall is a "great idea."
"The overall feeling is there is a D.C. City Council that is filled with some really corrupt politicians," Shiebler says. "There's a crossroads where you're supporting people who are either working to enrich themselves, or they're working with the community to support projects that make the ward better."
Shiebler also says he feels some LGBT residents turn a blind eye to Thomas's misdeeds or excuse him because he is perceived as an ally.
"My take is he is sort of getting a pass," Shiebler says. "He plays the fair-weather friend card. He decides not based on whether it's good for the LGBT community, but how much backlash or praise he's going to get for a specific action."
Seconding that sentiment is gay Brookland resident Tim Day, a Republican who ran against Thomas in 2010 and who was an instrumental figure in highlighting some of Thomas's questionable expenditures.
Day rejects labeling Thomas as an ally of the LGBT community, saying Thomas fought against allowing gay clubs displaced by the baseball stadium to relocate to Ward 5 and failed to defend the gay community against allegations, made at public hearings by Ward 5 residents, of rampant violence and sex at gay-themed clubs. Yet Thomas defended the construction of two straight "gentlemen's clubs" in the ward.
"He likes to play on the ignorance of people," Day says of Thomas. "He has no couth, no courage, and says whatever people want him to say."
Gay Bloomingdale resident Kerry Neal says the allegations against Thomas are eating away at whatever support he might have in the ward.
"I have a concern with the ethical situation and what I think is a lack of moral compass, and sort of what is a nonchalant attitude about it," Neal says. "A number of people have just had it with him personally, as well as with the political structure that just allows him to run roughshod over other issues."
However, Neal says he does not automatically endorse a recall of Thomas, because he needs more information about the process.
"I would have to see the nature of the recall, as well as any special interests behind it," he says. "Recalling him, if he can subsequently run on the ballot, may not be effective."
As to who should replace Thomas, Neal says the community should not worry about electing a person considered "worse" on LGBT rights.
"Anyone who is capable of representing the whole of Ward 5 is someone who should be considered an ally," he says.
[The following is an update to this story, adding new information reported Jan. 4, after Metro Weekly's print deadline.]
Following a report by local CBS affiliate WUSA9 that Ward 5 Councilmember Harry Thomas Jr. is expected to resign, some LGBT residents in the ward expressed relief at the likely departure. They also said they hoped they would be able to find a new councilmember who would continue the progress on economic and quality-of-life issues that has been made in the rapidly gentrifying ward.
"Harry Thomas Jr. did the right thing because he felt he was not serving the best interests of the ward," Bill Shiebler said upon hearing of the reports. "This is the type of action we need to see from other members of the Council who have found themselves in these types of scandals. And if they're not willing to step down, then I definitely support more recalls in other wards."
Bloomingdale resident Kerry Neal said he was "pleased at this resolution" and hoped that the residents of the ward would be able to replace Thomas with someone who would represent the best interests of a very diverse and changing ward.
"It'd be the best thing for Ward 5," David Lippe said of Thomas's expected resignation. "This has just become too much of a distraction. Even if he's not found guilty, we've come too far as a ward to let this distract us."
According to D.C. municipal regulations, once the Board of Elections and Ethics (BOEE) certifies that a seat is vacant, a special election is held on the first Tuesday occurring more than 114 days after the vacancy becomes effective.
While that holds for an At-Large seat, there is no provision in D.C. municipal regulations for appointing a replacement or interim councilmember of a ward seat. Accordingly, should Thomas resign, his seat will remain vacant until the special election occurs, according to Alysoun McLaughlin, BOEE public affairs manager.
Ward 5 resident Vincent Villano said he was slightly concerned about potentially lacking representation on the council, but added that the quality of the representation residents were receiving from Thomas was not much better.
Shiebler and Neal also said that, from their perspective, Thomas had not spent much time interacting with the residents in his ward, particularly in the more western neighborhoods such as Bloomingdale, Eckington and Edgewood, which have seen influxes of newer residents.
Potential candidates to run for a special election include Thomas's 2010 general election opponent, openly gay Republican Tim Day, who told Metro Weekly that he would consider running in a special election were Thomas either recalled or forced to resign.
Day also said he would not be surprised if Thomas's Democratic opponent, Kenyan McDuffie, or Kathy Henderson, who ran against Thomas as a Democrat in 2006 and as an independent in 2010, jumped into the race.
Another candidate frequently mentioned is another of Thomas's 2010 primary opponents, Democrat Delano Hunter, who was supported by the National Organization for Marriage, a group opposing marriage equality. In a Jan. 4 call with Metro Weekly, Hunter declined to make any announcement.
Shiebler hopes any Thomas replacement is a strong ally of the LGBT community, and not just a "fair-weather friend," as he previously characterized Thomas. He said he believes it is possible to elect a gay-friendly councilmember, but that LGBT residents must raise the issue at community forums and debates and make it and issue for potential candidates.
"Being a champion for LGBT issues is never easy," Shiebler said. "It doesn't matter what ward you live in. You not only have to vote the right way, but collaborate with the local LGBT community to see what can be done to move the neighborhood forward."
"Bloomingdale has one of the highest percentages of same-sex couples in the city," Villano said. "For us, it's really important to have people who represent us respect the way we live and love."