Matt Bronson stood out among a crowded field of nine contestants at this year's Mr. Mid-Atlantic Leather contest, held Sunday, Jan. 15.
"I was the tallest person in the group," Bronson quipped as the reason he thinks he won the title of Mr. MAL 2012. In reality, the 6-foot-5-inch Bronson also towered over a competitive field by sheer force of his attractive affability. "The key is just being myself," he said in an interview after getting sashed. "I try to be very down to earth."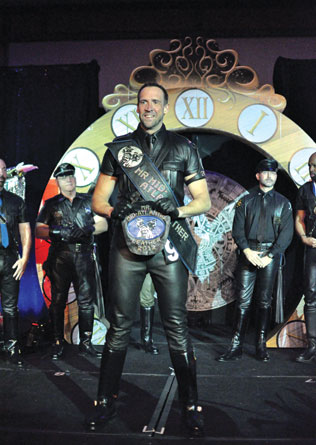 Mr. MAL Contest
Bronson, a schoolteacher from eastern Pennsylvania, had co-workers in the audience cheering him on, as well as leather supporters from Pittsburgh, where Bronson earned the title of Mr. Pittsburgh Eagle 2012 in November. Bronson's predecessor, Mr. MAL 2011 Doug Pamplin, also hails from Pittsburgh.
Marc Carcione, Mr. PW's Leather 2012, was chosen by judges to be Mr. MAL 2012 first runner-up. Matt Kenney, the reigning Mr. Connecticut Leather, was second runner-up.
In many ways, this year's MAL stood tall over previous years, too. It was the second year at the Hyatt Regency Washington on Capitol Hill, but first in which the entire hotel became an exclusive leather and fetish preserve.
In an interview after the weekend event closed, Patrick Grady, a member of the MAL-sponsoring Centaur Motorcycle Club and chair of the leather weekend, said there were no major mishaps or incidents at the event, which drew roughly the same number of patrons – between 1,500 and 2,000 – as last year. The only problem Grady could think of was that several vendors at the leather Exhibit Hall had trouble keeping merchandise in stock, particularly harnesses and chaps.
In other words, "There were no problems this year at all."
"The weekend went really, really well," Grady continued. "It was great to have the entire hotel. The energy level was way up, and everybody just felt more at ease."
Bronson, who joined the leather community about two years ago, now moves on to compete at Chicago's International Mr. Leather contest in May.