Will today's musicals have lasting cultural relevance? In most cases no, argues Robert Aubrey Davis.
"One hundred years from now," says the local arts critic and television host, "everybody will know every Beatles song, and almost no one will know most of the music that was written for the stage at this moment. I don't think there is very much good in contemporary musical theater."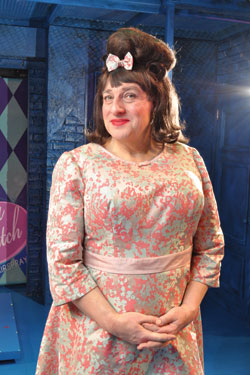 So you can imagine just how much persuading it took to get Davis to star in Signature Theatre's production of one of the most popular Broadway shows from the past decade – Hairspray, based on the John Waters film. A lot — especially since Davis hadn't performed with others in a show or in choir since his college days more than 40 years ago.
"It was a long-term strategic campaign on the part of [Signature's] Eric Schaeffer," explains Davis. "Eric, just in the way he does, kept pursuing it." Over dinner, Schaeffer rebutted every argument Davis's lawyer – better known as his wife – gave for why he shouldn't take on the role of Edna Turnblad, the character first brought to life by drag queen Divine. "Can't dance, can't sing, too busy," Davis sums up the arguments. Those were in addition to specific concerns over donning drag for the first time to portray a woman, and of being compared to John Travolta, whose portrayal of Edna in the Hollywood film version Davis found rather egregious. "Wearing a fat suit," he explains, "Travolta doesn't move, understand or react in a way that a person of size really does."
Eventually, Schaeffer's charm offensive wore Davis down, and the local luminary resigned himself to the role in a way he sees as similar to how the reclusive Edna finally agrees to model for Mr. Pinky's Hefty Hideaway: "I am big, and I guess I'm beautiful. I'll do it."
"A lot of [Schaeffer's] pitch was that this would be transformational for me," says Davis, who says that that became true from the first day he put on his fake "lady parts." "I realized I was at the top of a roller coaster," he says. "Everything from there on out would be entirely different in my life." Davis says it's too soon to know exactly how the role will change him, but he concedes, "It might actually change how I review things." Best known as the longtime host of WETA's Around Town weekly local arts roundtable, Davis says the reality of getting less-than-favorable reviews of his performance – including one in Metro Weekly – though expected, "doesn't make you feel good."
Of course, Davis is known as one of D.C.'s friendlier arts critics – as well as a booster of the city's theater scene long before he became the announcer for the annual Helen Hayes Awards. "I'm thrilled Washington has become a great theatrical city," he says, noting that it's been a remarkable theater town for many decades now. "As a boy I was taken to Arena Stage," he recalls. "That was a hugely formative part of my life. I think theater is magic in every way. I think theater, particularly straight plays, are the art form of our time."
Davis, who also works as a host or programmer for a couple classical and folk stations on Sirius/XM radio, thinks "the locus of genius" may eventually come back to musicals from the pop and folk music realm. "But it's tricky," he says. "Even brilliant people like Paul Simon or Elton John can write interesting things [for the stage]. But is it as great as the music they wrote when they were just writing their own music? [That's] the important question to ask."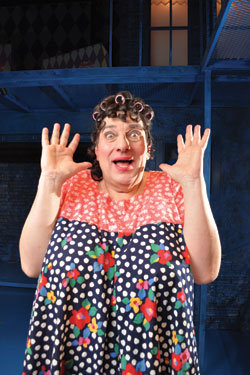 Robert Aubry Davis in "Hairspray"
Photo by Todd Franson
Davis thinks Hairspray just might be that rare modern musical exception that stands his 100-year test of time. In part, that's because it addresses the "incredibly important subject of human rights," and also because it has "so much heart and soul" in its portrayal of Baltimore, courtesy of John Waters. And then there's Marc Shaiman's music and lyrics, the latter co-written with Shaiman's partner and collaborator Scott Wittman. "If you listen to how this thing is composed," he says, "you actually have everything from ballads of the '40s, through the early '50s/Perry Como-ish [pre-rock], [to] that magic transition to rock and roll." Plus gospel and R&B, too.
Catching the television show Scrubs while on vacation in Maine was the final impetus of his agreeing to take to the stage in Hairspray. In one episode, a dying woman describes life as being like a "fabulous" Broadway musical, while death is "the memory of how great all of the lights and the music and the costumes and dancing and singing was."
"I don't know why, but that struck me awfully hard," he says. "[It helped me] see why people want to have this."
Hairspray runs through Jan. 29 at Signature Theatre, 4200 Campbell Ave., Arlington. Tickets are $63 to $86. Call 703-820-9771 or visit signature-theatre.org.