4. Psycho Beach Party (2000)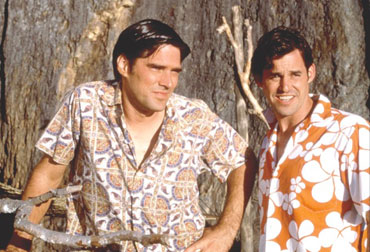 Psycho Beach Party
Psycho Beach Party may not be New York drag actor and camp master Charles Busch's best film — in fact, his superior 2003 film Die, Mommie, Die! is arguably even campier. But the 2000 film, based on his original off-Broadway play and directed by Robert Lee King, deserves its own attention. Not least of which because it helped make a star out of Lauren Ambrose, a year before she became a gay household name for her role as the prickly daughter on HBO's Six Feet Under.
In Psycho Beach Party, Ambrose plays Chicklet, a split-personality force to be reckoned with. The "comedy horror" film also starred Amy Adams — as mean girl Marvel Ann — well before she became a genuine Hollywood star. And of course Busch stars in drag as Captain Monica Stark, who investigates a series of murders in the film's beachside town. Add to that the surfer dudes who provide plenty of gay-guy eye candy.
Ultimately, Psycho Beach Party is campy because of the marvelous way it sends up the psycho-dramas of the 1950s, innocent beach movies of the 1960s, and slasher films of the 1970s – all that combined into one hilarious film, with witty bon mots flowing freely, like little else you've ever seen.