2. Mommie Dearest (1981)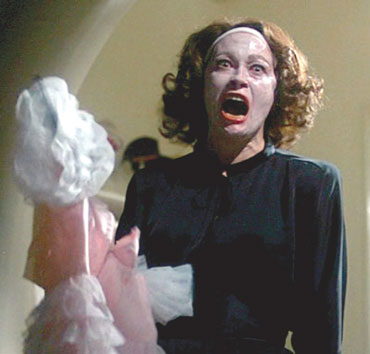 Mommie Dearest: Faye Dunaway as Joan Crawford
Walk into any gay bar in America and shout, "Tina, bring me the ax!" and it's possible you'll unleash a torrent of Mommie Dearest quotes — particularly if the average age of patrons is older than 45, and they're well past the first round. Outside the U.S., walk into any gay bar in the world, and the more straightforward "No wire hangers, ever!" should get you just as far.
Based on the 1978 tell-all memoir of the same name penned by Christina Crawford, the adopted daughter of Hollywood legend Joan Crawford, Mommie Dearest made a big splash. The younger Crawford details her iconic mother as a Hollywood heavy who beat her two children, demanded nonstop attention and allegiance from all, and was as generally insufferable at home as her public persona was popular at her height. No delicious detail is absent, from Mommie's notorious bed-hopping to her daily constitutional of ice and rubbing alcohol facials.
In presenting a Joan Crawford as over-the-top as her legendary status – she's an Oscar-winner, after all – Faye Dunaway's portrayal can't avoid camp. It follows a natural evolution. One year, Joan Crawford possibly screamed at the PepsiCo. board of directors, "Don't fuck with me, fellahs!" Years later, it's Dunaway screaming the line to millions of moviegoers. Today, it's a staple of the gay lexicon, like its quotable counterparts. It is the perfect expression of camp, taking a quasi-tragedy rooted in reality that's told with cold-cream masques, dangerously plucked eyebrows and bombastic violins. Mommie Dearest so richly delivers that fans of camp are literally thrown red meat, which they've been gleefully digesting ever since.