12. Can't Stop the Music (1980)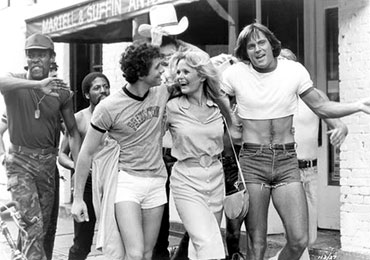 Can't Stop the Music
Never mind that Can't Stop The Music has very little actual gay content. It is, after all, a movie that was loosely based on the story of the Village People, a disco band created to wink hard at the dance genre's built-in gay audience, playing with gay "Macho Man" fantasy stereotypes.
And never mind that Can't Stop The Music is so bad, the commercial flop essentially inspired the Golden Raspberry Awards, the Oscar antidote honoring "the worst in film." (It won the very first Razzie for Worst Picture, alongside Xanadu in 1981.)
But Can't Stop The Music is one glorious exercise in camp, as directed by Nancy Walker, best known for playing Rhoda's mother on The Mary Tyler Moore Show and its spinoff, Rhoda. The film was produced by the late Allan Carr, the flamboyantly gay Hollywood producer who had previously had a hit with the 1978 movie musical Grease before the anti-gay disco backlash took hold.
The Village People — the Indian, the Cowboy, the Policeman, the Leatherman, the Construction Worker and the Sailor — all appear in the film, set in New York's capital-g Gay Greenwich Village and featuring male nudity in locker room scenes at the YMCA. It also stars the real "Baby" June Havoc, part of the family portrayed in the Broadway musical Gypsy, as well as Steve Guttenberg and Bruce Jenner, back when he was attractive. It was actually the Olympic star's one and only film role, long before the Kardashians gave him a second shot at fame. Jenner parades around in itty-bitty gym shorts for most of the movie. That might not sound hot today, but it sure is campy.