11. Lust in the Dust (1985)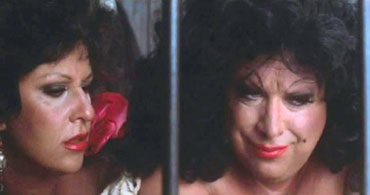 Lust in the Dust
John Waters without Divine can be hit-or-miss. Ditto for Divine without John Waters. That doesn't stop Lust in the Dust from making our list, because the cheerful insanity of this Paul Bartel Western — and a complete willingness of co-star Lainie Kazan to go over the top, and then some — make it a low-class riot.
Nonsensical story short: Rosie Velez (Divine) is ravaged on her travels through the desert by a gang of outlaws (who get more than they bargained for), and finds safety in the appearance of Abel Wood (Tab Hunter, her co-star from Polyester). Once arriving in Chili Verde, she butts heads and bosoms with saloon owner Marguerita Ventura (Kazan). There's something about a hidden fortune, a tattooed treasure map and long-lost siblings, but basically the entire movie is a sequence of camp sequences and running jokes, Rosie's tendency to commit accidental manslaughter on her paramours among them.
The highlight, though, is Kazan, who does the unthinkable with her performance of "South of My Border" just north of her garter. She out-drag-queens the drag queen. It's the perfect camp morsel for a lazy Sunday post-brunch afternoon, with a few margaritas on the side.