8. The Adventures of Priscilla, Queen of the Desert (1994)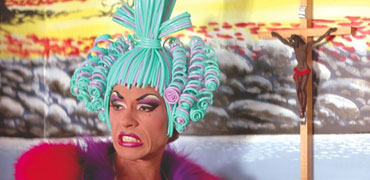 The Adventures of Priscilla, Queen of the Desert
If there is a genre of serious camp, The Adventures of Priscilla, Queen of the Desert is it. Yes, it's comedy. Obviously, we've got drag queens. But there is also a depth to Priscilla that most camp cannot match. It's a sentimental story dressed up in camp comedy, and lots of it.
On one hand, there are the costumes and bitchy lines. The ABBA obsession, the "baby bottles of booze!" and the "cock in a frock on a rock." Almost 20 years since its debut, drag queens can still be found emulating the film's eye-popping, fantastical costuming.
On the other, there is a message of discovery, of redemption and of the pursuit of liberation and happiness. And it's a strong message. Camp comes full circle when three drag queens go from the comic to the profound. In full drag, contrasted by the barren beauty of the desert, these three travelers convey a moment of spiritual transcendence that is genuinely moving. Anyone who has felt the heaviness of life, the need to shout "I am what I am," or an appreciation for the wonders of the universe, should get a few goose bumps with Priscilla.
And the movie's camp value is rising. At its release, the irony was Terence Stamp as the transsexual Bernadette, he of tough guy fame. (Hello, General Zod?) Hugo Weaving and Guy Pearce were relative unknowns. Generations of future movie lovers are in for a treat when the times comes to be asked, "Did you know that Agent Smith from The Matrix and that guy from Memento got their start playing crazy drag queens?"
---
---