6. The Women (1939)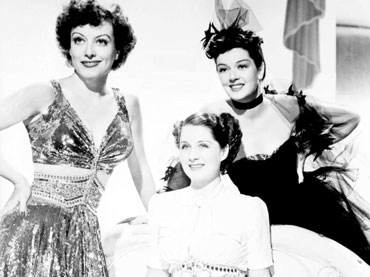 The Women
With its machine-gun dialogue and art deco glamour, The Women may be the ur-film of unintentional camp. It's funny and always has been, but it was daring in its time in dealing with adultery, divorce and class entirely through a cast of women — no men allowed in this particular club. But time, hindsight and progress have dimmed the serious undertones of the film — another unintended victim of no-fault divorce — leaving the facade of catfights and cocktail parties to soldier on.
But, honestly, we were never talking Edith Wharton social commentary here. We're talking about a wronged woman who learns to fight back against the social-climbing salesgirl who stole her husband, giving us Norma Shearer's immortal delivery, "I've had two years to grow claws, Mother — Jungle Red!" thereby providing a drag queen template for decades to come. With a cast of more than 100 women, seemingly every female in Hollywood was in it. Joan Crawford is in full evil temptress mode as the predatory manhunter; Rosalind Russell delivers her rapid-fire patter while wearing a succession of simply fabulous outfits.
And the whole black-and-white affair suddenly stops in the middle for a 10-minute Technicolor fashion show. Because, you know, why not? The Women is indulgent, crackling and the rare film that gets funnier as the years go by. Be sure to catch with a group of your cattiest friends.