For regular readers of Metro Weekly or the Washington Blade, it's a good chance that Gary Teter handled more than one of the magazines or newspapers they read before it landed on the stands. Starting with the Blade in the 1990s and moving onto Metro Weekly in the early 2000s – which included the Capital Pride Guide and later the Reel Affirmations Guide – Teter literally had a hand on the content LGBT D.C. reads. It's what he was doing the morning he died, around 5 a.m., Friday, Jan. 27.
"The last time I talked to him was 4:30," says Dennis Havrilla, Teter's partner both professionally and domestically, explaining that on those Friday morning distribution runs, Teter would usually make it home before Havrilla. That awful Friday morning, however, Teter's SUV was missing. "I tried to call back and got nothing. It just went right to voicemail and I knew something was wrong. I waited about a half hour, pacing and shaking and calling. Still, nothing. Then I started calling the police. I got to the detective who was on his way to my house."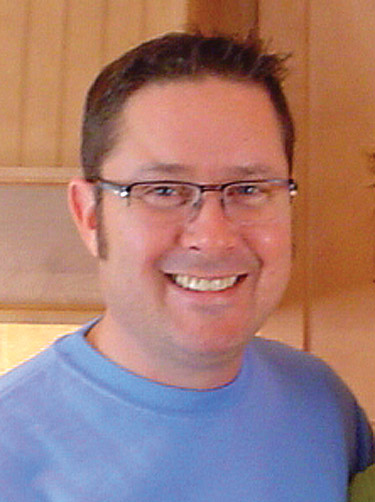 Gary Teter
That detective was going to tell Havrilla that Teter, 50, was involved in a single-car accident near the intersection of 4th Street and Massachusetts Avenue NE, though that was not the likely cause of death. "It's obvious there was a medical emergency before the accident," he says. "But we don't have the final report yet. It's pending. It's just unexpected and unknown."
For a definitive answer, one need only ask Havrilla how long he knew Teter. He responds immediately: "April 12, 1985." That's the night the two met at D.C.'s long-gone Lost and Found bar. Havrilla was nearly 20, Teter just beyond, and from that night forward the two were rarely apart. While Havrilla worked an office job in Alexandria, Teter worked in home restoration – skills he learned growing up in Morgantown, W.V., and mastered while studying theater design at West Virginia University. Before long, the two had their own home near Huntington, Va., where they've lived for more than 20 years. A former railroad boarding house in Havrilla's family gave Teter ample opportunity to teach Havrilla all he knew about restoration.
"It was my grandmother's house, a railroad station boarding house when it was originally built in 1902, just outside of Emporia [Va.]," Havrilla says of the house he and Teter came to own. "With Gary's know-how of building and construction, he crawled under the house, in the house, up in the attic and said, 'This house should not be torn down. It's still in good shape.' We've been restoring it for 20-some years now. … We did everything, the entire house. We're still doing it. We put in a high-tech media room. We recently finished the main living room on the downstairs level. Thank God he got to see it finished, because he designed it."
Havrilla says that even though Teter was a "master of design," he was never interested in joining a design team: "He didn't want to work for anyone else and be told what to do."
Instead, Teter and Havrilla worked independently as distribution contractors and with the couple's two-man company, DenGar Restoration. From time to time, the two would escape the work by boating on Lake Gaston on the Virginia-North Carolina border, or with holiday get-togethers at the Emporia home. It's a life more than 20 years in the making, with the "DenGar" moniker symbolizing much more than a business.
"I came out at 18 and lived very hard and fast for two years, basically," Havrilla remembers. "Then I met Gary and I fell in love. We've worked together and lived together for two decades, with not much time apart."
Havrilla grants that he was often seen as much more outgoing than Teter, who tended to be more quiet. He points out, however, that Teter once hoped for a singing career and even performed sets at a couple bars and wrote some of his own songs. And he returns to Teter's independent streak, evidence of a person with a strong – if quiet – disposition.
Looking to Teter's behind-the-scenes nature, David Uy, Metro Weekly's webmaster who first met the couple in the 1990s when working as the Blade's classified manager and placing DenGar's regular advertisement, urges that Teter's quiet contribution to the community not be overlooked.
"Not everybody gets a byline or an award for serving the community," says Uy. "People like Gary are a very important part. He deserves a lot of thanks."
Metro Weekly co-publishers Sean Bugg and Randy Shulman offered similar sentiments.
"For years, Gary has been the quieter half of a team that's supported the local LGBT community behind the scenes and with the kind of dedication that's invaluable," Shulman says. "Everyone at Metro Weekly – and likely many people along Gary's routes – are going to feel this enormous loss deeply."
"We are a very small, close group at Metro Weekly," adds Bugg, "so this hits everyone really hard. Gary and Dennis have played such a large part in our growth over the past 10 years and become such an important part of our family here that it's just hard to imagine that Gary is gone. Our hearts go out to Dennis for his loss."
Details for a public memorial service for Gary Teter are pending, and will be published when available at MetroWeekly.com.