When Rutgers University student Tyler Clementi killed himself in 2010, Carl Menninger might have been more disturbed than most. As a gay assistant professor at American University, the details of Clementi, 18, committing suicide after his roommate secretly recorded him kissing another male in their dorm room, hit close to home. So when a student of his own came out and faced some backlash that resulted in depression, Menninger was moved to do something. As he's also AU's director of theatre, musical theatre and dance, it's not surprising that the "something" turned out to be a show: Bare.
"I wasn't familiar with it till last year," Menninger says of the gay-themed musical set at a Catholic boarding school, suggested to him by a colleague with whom he discussed his depressed student. "The play has a tragic turn to it, but it ends hopefully. The reaction has been great. Audiences have been moved."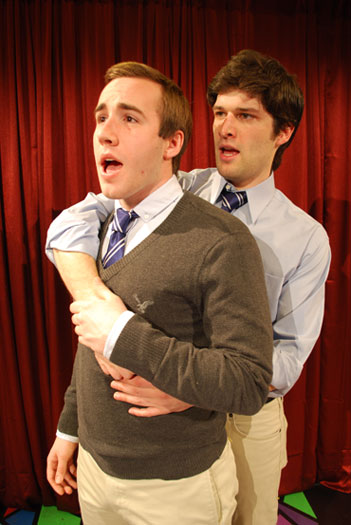 Carter Lowe (L) and Sam Edgerly in Bare.
In staging Bare, Menninger and a group of students have worked to produce more than a show. Instead, they're bringing in groups such as the gay-Catholic DignityUSA, the Sexual Minority Youth Assistance League (SMYAL), and the Gay, Lesbian & Straight Education Network (GLSEN) to better engage the community.
Aside from helping students better understand coming-out issues, Menninger would particularly like to see older LGBT locals at Bare for them to better grasp that, while things have gotten better, Clamenti and his own student show that there is still a long way to go.
"We as the gay community look at the progress that's been made for young people coming out. We think things are better – and they are," he says. "But some issues we think have been resolved have not. We've started to do our work and have made huge strides, but students are still challenged."
AU Performing Arts presents Bare Friday, March 2, and Saturday, March 3, at 8 p.m. A panel discussion of the struggles of gay adolescents follows a 2 p.m. Saturday matinee. For tickets, $15 general admission or $10 for AU community and seniors, call 202-885-ARTS or visit american.tix.com. Performances are at Katzen Studio Theatre on the AU campus, 4400 Massachusetts Ave. NW.