The Maryland Senate passed HB 438, a bill legalizing marriage equality in the Free State, by a 25-22 margin after its third reading Thursday afternoon, sending the measure to Gov. Martin O'Malley (D) for his signature into law.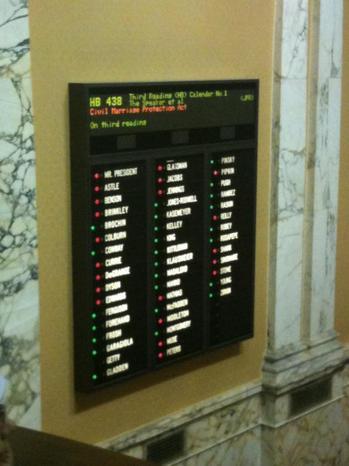 O'Malley, who has made the bill part of his 2012 legislative agenda, has vowed to sign the bill. Opponents have vowed to collect the more than 55,000 signatures needed for a referendum seeking to overturn the law, which would be placed on the 2012 ballot.
Legislative opponents had tried earlier Thursday morning to amend the bill, which would have forced it back to the House of Delegates for a second vote. The House previously passed the bill, 72-67, on Friday, Feb. 17.
When the Senate resumed its session at 4 p.m. Thursday, opponents continued offering amendments, including one that would have created a wider "conscience" exemption, which prompted Sen. David Brinkley (R-Frederick, Carroll counties) to launch into a filibuster where he read aloud a letter from a constituent claiming to be a constitutional lawyer detailing all the legal problems that could result from legalizing same-sex marriages. The letter echoed testimony that had been heard in January and February hearings held by both House and Senate committees.
Pro-LGBT rights group Equality Maryland later tweeted from that the letter was from Robin Fretwell Wilson, saying Wilson "claims neutrality, but only reps for anti-equality." The amendment in question failed, 17-30.
At one point, a vote on the full bill was taken, but was struck from the record when Sen. Edward Reilly (R-Anne Arundel Co.) asked to speak on the full bill by reading a letter from constitutional law scholars and professors at the University of Virginia who allegedly support same-sex marriage legislation, but have reservations about its legal ramifications. After several other filibusters by opponents, and several impassioned speeches by supporters of the bill, the measure finally passed.
In a statement, Sultan Shakir, campaign manager for Marylanders for Marriage Equality, said, "We're fortunate to be riding a huge wave of momentum as we enter the referendum process. There is still a lot of work to do over the coming months, but we think voters will ultimately agree that all children, no matter who their parents are, should be protected under the law. Marriage equality is about building strong, stable families."
[Photo: The Maryland Senate vote board. (Photo courtesy of Equality Maryland via Twitter.)]