Continuing the tradition into its 41st year, leather and lusciousness came together Sunday, Feb. 12, for Scarlet's Bake Sale. With about 65 sweet entries up for auction at the DC Eagle, the annual fundraiser netted $8,800, says Stephen Decker, chairman of Scarlet's Foundation.
Not all the cash came from cake, however. Decker points to what he considers this year's climax as an example of a non-baked good: Mr. Mid-Atlantic Leather 2012, Matt Bronson.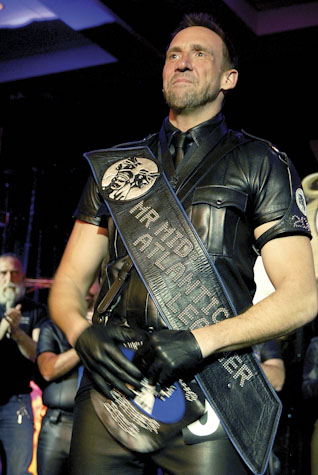 "The highlight this year was auctioning off the cockring of Mr. MAL," says Decker. "Two women were holding the towel [in front of Bronson] and the ring was removed. The towel went for $250, the cockring for $300."
Of the funds raised, Pets-DC, a group that helps ill people care for their pets, will receive $4,800. Moveable Feast, a Baltimore nonprofit that delivers meals to ill people, will receive $3,200. The remaining $800, says Decker, will be put toward – not cover – operating expenses for Scarlet's Foundation.
Decker says that while the number of cakes donated was noticeably down from years past – a turn he attributed possibly to holding the auction on a Sunday rather than a Saturday, as well as the economy – he was more than satisfied with the amount raised.
"Don't get me wrong, I'm not disappointed," he said of the event, sponsored by the DC Eagle, Green Lantern, Plaza Artist Materials & Picture Framing and The Crucible. "As far as a fundraiser, it was very successful."
Aside from its sponsorship, The Crucible was also honored with the Scarlet's Heart Award for many years of supporting the auction.