Audience participation is common, part of the human experience. In its most simple expression, it's applause. Add a bit more gusto, and you've got a standup comic and her heckler enjoying some back and forth. There is a special place, however, reserved for the decades of diehard Rocky Horror Picture Show fans who have taken their unique homage to a new territory by enhancing participation with presentation.
"Have fun," advises Jeff Baker. "Get up and dance the 'Time Warp.' Have a good time –that's what it's all about. With Rocky Horror, you get not only the image on the screen, but actors. It's 3-D, a huge experience. The film is just a part."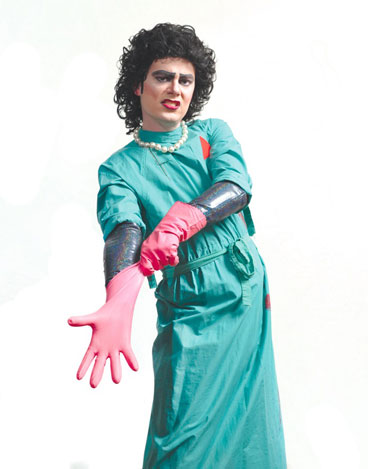 Jeff Baker: Sonic Transducers
(Photo by Todd Franson)
The scene Baker is describing is one he knows well as a member of the Sonic Transducers. The troupe performs monthly at Landmark's E Street Cinema, their life-sized, costumed characters following the larger-than-life action on the screen behind them. Certainly, they're not the only ones in on the fun. Those left behind in the audience have their role to play as well. As Baker suggests, they may rise up to dance the "Time Warp," with a jump to the left and a step to the right. Or they may enter into a dialogue with the film. The audience, for example, generally kicks off the movie by yelling, "Let there be lips!" At their collective cue, disembodied, giant, red lips fill the screen to sing the musical's opening number, "Science Fiction/Double Feature."
There has also been a tradition of throwing rice at the screen during a wedding scene, spraying water in the air during a thunderstorm and so on, but that's more or less part of history – unless you're lucky enough to stumble upon a theater that gave up cleanliness long ago or is scheduled for demolition.
"We prefer not to throw food. We don't want rats," says Baker, artistic director of the Sonic Transducers. "And rice and water make a sticky, gooey mess."
The small measure of restraint, however, has not restrained Baker's enthusiasm for the film and his participation at the screenings. From the first time the 40-year-old caught a midnight screening in Baltimore, in the early 1990s, he was hooked.
"I thought it was the craziest thing I ever saw," he remembers. "It was Halloween. There was a live cast. It was sold out. I had no idea what to expect. My jaw was on the floor. The rest is history."
That history had Baker returning to the screenings, watching from the audience, and creeping closer to his big debut that would become a huge part of is life. He took to the stage as Columbia, a scene-stealing spitfire with a taste for bad boys. From there, he became a regular Brad, played by Barry Bostwick on screen.
"I have different favorite characters for different reasons," Baker says. "I love playing Frank-N-Furter, but he's very exhausting. My favorite is probably Brad."
Baker says a special quality of the Sonic Transducers, which he joined in 2009, is that of the group's members – about 20 – everyone's free to play any character. As one might expect, the rules aren't rigid. It's really just about having a good time. And that flexibility keeps it fresh for Baker, who has no plans of walking away from the sweet transvestites of Rocky Horror. Thankfully, one character appears in a wheelchair, should it ever come to that.
"I'll do this till I'm old and gray and playing Dr. Scott in the wheelchair," Baker swears. "I don't see myself stopping. I think it will always be part of my life."
The Sonic Transducers perform at Landmark Theatres' E Street Cinema, 555 11th St. NW, during Rocky Horror Picture Show screenings the second weekend of every month. The next engagements are Friday, March 9, and Saturday, March 10, as part of E Street's "Midnight Madness" series. For more information, visit dcrockyhorror.com.