From PDAs to iPads to PCs, video is more easily accessible than ever, and not just on YouTube. Businesses are increasingly looking for ways to use informative, persuasive videos for everything from email inserts to training tools to sales presentations. Stone Lyons, owner of Stone Lyons Media, believes this trend offers opportunities for an entrepreneur who provides a professional product at an affordable price.
A native of Maine, his résumé includes training as a director and several years experience in Hollywood. "I worked on big budget commercials, feature films and movies for TV," Lyons says. But in 1999 he took an opportunity to move to D.C., where several college friends had also settled, and worked freelance until offered a job in 2005 as marketing manager for a local TV production company.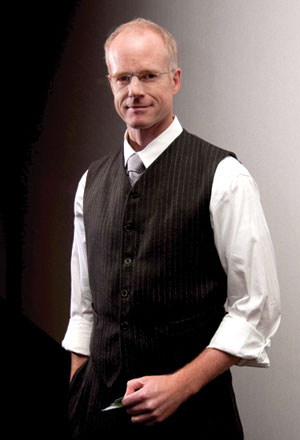 Stone Lyons
(Photo by Pete Exis)
Major changes in technology showed Lyons that there was an opportunity for a new business. "I saw a need for a company offering professional video, but operating on a smaller scale," he says. "I'm essentially a one-man, home-based business, except for those situations where I need a crew. So, I can provide a good quality product at an affordable price."
Lyons says business interest in video is high because it's a powerful tool: "Social media is saturating everyone's lives. So, video as a social media or email tool is very useful — a great way to promote a business, big or small."
But with everyone able to shoot their own videos from a laptop or phone, is there enough work? "There are a lot of people using video on their own, such as podcasts from their computer," Lyons notes. "But when they want to improve the quality, they'll call me. The advantages include better lighting, sound quality, and editing, all resulting in a better impression."
A major challenge for any small business is getting the word out. Lyons has focused his attention on the LGBT community. Last year his business became certified as an LGBT Business Enterprise (LGBTBE) through the National Gay and Lesbian Chamber of Commerce.
He's found many customers through his membership in the Capital Area Gay and Lesbian Chamber of Commerce (CAGLCC). Lyons's work has been a key component in several of CAGLCC's annual dinners. "I've expanded my business primarily by networking within the community," Lyons says. "When you help other people in the community, the referrals come back. It's also been a great source of many great friendships."
Lyons's future may involve colleagues in his former home of Hollywood. He, Jameson Freeman, Rick Westerkamp, and actor Gabriel Riera (aka "Dominic Anika") are co-producing a sitcom pilot, I'm Not Gay. "It's a one-camera comedy for entry into the 2012 Comedy Central Pilot Competition," Lyons notes. A second pilot, still in development, is a business-focused reality pilot done in collaboration with the company that produces "The Swish Edition."
Lyons is looking forward to expanding his business in terms of the variety of video resources he provides. "I've done several health-related videos for Whitman-Walker Health," Lyons says. "I love it when my work can inform or even empower the community."
Is a return to Hollywood part of his long-term plans? Not likely, he believes. "I love D.C.'s small-town feel and I've made a number of great friends here over the last 10 years." He's invested in the community in other ways, including a video project for an organization fighting to make solar energy affordable to all D.C. residents.
"Coming to the East Coast," says Lyons, "was a good move."
The Chamber means Business. For more information visit caglcc.org.
Robert E. McLean, a CAGLCC member, owns REM Association Services, a full-service association management company in Arlington.