This Friday, Feb. 24, the National Museum of the American Indian will open its doors after hours for a special treat "recommended for mature audiences."
What could possibly be so provocative?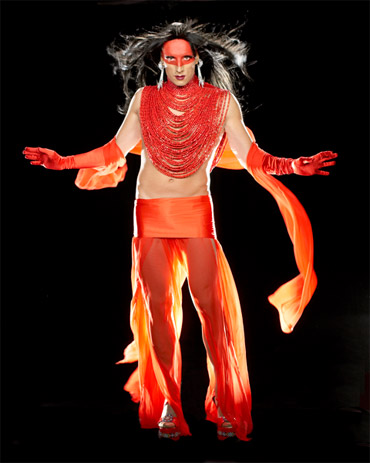 Miss Chief
Actually, it's not a "what" but a "who." And the answer is Miss Chief Eagle Testickle. The engagement marks the U.S. premiere performance of Cree-Canadian multimedia artist Kent Monkman's alter ego — "Miss Chief" for short. When there's room for the full name, however, Monkman is emphatically all for it.
"The full name is great. The play on the word 'egotistical,' that was where her name came from," says Monkman from his home base of Toronto. "I was creating a persona to rival the egos of the original artists I was looking at, like [painter] George Catlin, who build careers creating bodies of work about Native American people. … It was one way of challenging the subjectivity of their work, to look at their individual motivations and their individual careers.
"I never tried to dismiss their work," he continues. "I've been interested in entering into dialogue with their work. Their work has value in terms of representing a certain point of view from a certain time and place. But I do sort of take issue with the strong subjectivity that is in their work, the narrow lens from which they regarded Native American people….
"The prevalent sort of view at the time these artists were making work was that these people were a vanishing race and they were adamant to sort of create images that showed them in their 'uncontaminated' state. That left very little room for these Native American cultures to evolve and to stay relevant. That was part of the problem with their work: They really insisted on a kind of time-capsule image of native people. And been very romanticized. So that's really one of the biggest issues I take up with their work."
Enter Miss Chief with her platform heels, feather headdresses, mascara and Louis Vuitton quiver. She is an alter ego who will take prisoners, if merely to educate them. But the playful tack only goes so far. Monkman grants that the seeming frivolity and sexuality in his work seizes an audience's attention. In his painting, film, dioramas and performances, the sheen recedes to expose deep, sometimes disturbing, concepts.
"I created a new performance piece based on the themes of 'blood quantum,"' Monkman says of the work he's bringing to Washington. "That is how people are defined as Native American people by the U.S. government. It's a system of defining Native American status based on laws that emerged in 1705. And each tribe in the United States has varying degrees of how they define their members. … Obviously, that becomes problematic, because when you have Native American nations that are defined by blood quantum it kind of ensures that your nation or numbers of people will eventually become extinct through intermarriage. It's the opposite of building a nation. The main theme of the piece is to engage with that kind of Colonial racist policy of how Native American people are defined. It's a policy used by the Canadian and U.S. governments to contain and, in effect, shrink Native American populations."
Beyond that, Monkman assures that uninitiated Americans will get a decent primer in Miss Chief before she goes live, thanks to some of her films, which include gems such as 2005's Group of Seven Inches, 2007's Robin's Hood and 2010's Dance to Miss Chief.
"If they don't know who she is," he says, "they'll get a pretty good idea of what she's about by the end of the night."
The National Museum of the American Indian, 300 Maryland Ave. SW, presents an "After-Hour Performance with Kent Monkman," Friday, Feb. 24, 6 to 8 p.m., in the museum's first-level Rasmuson Theater. The performance is free. Call 202-633-1000= or visit americanindian.si.edu.