Sometimes it pays to be a sister city.
Right now in Arlington, for instance, you can see a collection of Frida Kahlo's photographs, never before displayed in the United States and rarely seen since the famous Mexican painter's death in 1954.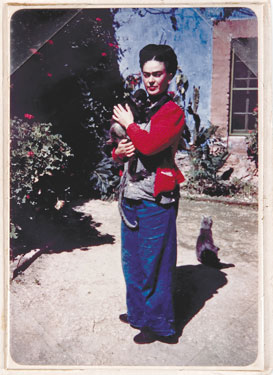 Frida Kahlo
And it's all because Arlington is the official sister city of Coyoacán, Mexico, a historic suburb of Mexico City. "It was the Arlington Sister City Association who discovered that there was this exhibit available and then facilitated this," says Cynthia Connolly, visual arts curator at Artisphere. The Arlington arts complex is billing itself as the "first and only U.S. venue" to display Frida Kahlo: Her Photos.
"This exhibit is actually an exact facsimile of the original exhibit in Mexico," says Connolly. The 259 photographs in the collection were first exhibited at Coyoacán's Frida Kahlo Museum in 2009, after being sealed off from public view for 50 years. The photographs, including those taken by Kahlo as well as assorted others, are grouped into six themes: from Kahlo's "Origins," to the horrible bus accident when she was a teenager that left her in permanent pain ("The Broken Body"), to Kahlo's "Loves," including her husband, artist Diego Rivera. There's no explicit mention of the known bisexual artist's relationships with women, however. "It doesn't really delve into her sexuality," admits Connolly.
"You can tell by the wear and tear of [the photos]," says Connolly, "that she carried them with her. Some of these were really important to her."
"What you're going to walk away from when you see this exhibit," adds Connolly, "is the intensity of her life…how she really enjoyed her life…even though she was in extreme pain."
"It's an inspiration for anybody," she says. And a special treat for those in Arlington.
An opening reception for Frida Kahlo: Her Photos is Thursday, Feb. 23, from 7 to 10 p.m. Exhibit runs through March 25. 'Artisphere, 1101 Wilson Blvd. Arlington. Call 703-875-1100 or visit artisphere.com.'