Why watch the Oscars alone at home when you could do it with hundreds of your best gay friends?
That at least is part of the appeal of The Center's Oscar-watch "friendraiser/fundraiser" at Town this Sunday, Feb. 26. Now in its seventh year and third time at Town, "Glamour, Glitter & Gold" is "a fun way to bring the community together, have some great entertainment and watch the Oscars," says June Crenshaw, co-host of this year's event along with Sean Honick. The gala has become one of "our favorite traditions," says The Center's David Mariner. One hundred percent of ticket proceeds goes to The Center, D.C.'s LGBT community center. Mariner says they hope to more than double the approximately $5,000 raised from last year's event.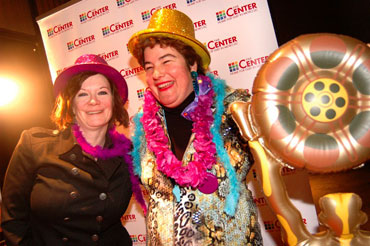 Metro Weekly's Randy Shulman and drag queen Lena Lett return to emcee this year's gala, joined by Sampson McCormick and personality Simply May. The emcees will offer Oscar commentary and trivia between the live broadcast from Hollywood and will also announce winners of the event's various raffles and prizes. Town is even creating special drinks for the party, of both feminine and masculine variety. "You don't have to be masculine to have a masculine drink," assures Crenshaw.
While Crenshaw notes that there isn't a dress code, many attendees will play up the glamour aspect to the Oscars and dress up for the event. After all, the gala, designed as an "East Coast version of a Hollywood-style party," kicks off with a red carpet meet and greet.
Crenshaw, who says she's rooting for The Help to win as Best Picture and Viola Davis as Best Actress, plans to wear "something very special, probably on the gown spectrum."
Who will you be wearing?
Glamour Glitter Gold is Sunday, Feb. 26, starting at 7:30 p.m. at Town Danceboutique, 2009 8th NW. Tickets are $20 general admission, or $50 for VIP. Call 202-234-TOWN or visit towndc.com or thedccenter.org.