Michael Lluberes's mother refuses to see his new show.
"She heard the title," he laughs, "and she is not making an appearance."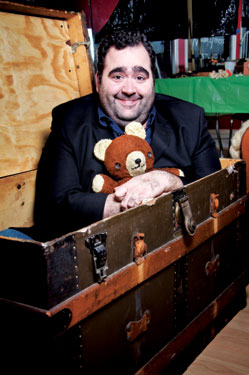 Michael Lluberes
Technically, the show's title is Peter Pan. Nothing scary about that. But Lluberes has transformed the popular story for a new production presented by No Rules Theatre Company. And he's adopted an earlier title J.M. Barrie used for his story, creating a new subtitle: The Boy Who Hated Mothers. At first blush, you can understand why Lluberes's mother, who lives in his native Michigan, wants to sit this one out.
"Barrie was obsessed with his mother," Lluberes explains. "He wrote her into every one of his plays. He wrote a novel about her life." Barrie's mother was severely depressed after her eldest son died. She never really got over it, and never really warmed to the younger Barrie.
"I feel like that's where [Barrie's] story came from," says Lluberes. "If you read his novel Peter and Wendy, it is dark, and it's about the pain of growing up. … I just wanted to put the play in that darker place, to pick up some of where Barrie was coming from."
The 33-year-old Lluberes grew up in Okemos, Mich., near Lansing, with the musical film version of Peter Pan starring Mary Martin. "I watched it obsessively, till the tape wore out." But unlike many children, his desire wasn't to be Peter Pan. "I wanted Peter Pan to come and rescue me as a child," he says. "I was a little gay kid in a small town in the middle of Michigan in the cold, longing for Neverland." Lluberes says acting was a key outlet for escaping a "complicated childhood" and a "complicated relationship with my family." That family includes his mother, a younger sister and his father, who was born in the Dominican Republic.
Lluberes left Michigan to study acting at the prestigious North Carolina School of the Arts, then moved to New York to become a stage actor. The past several years he's shifted his focus to concentrate on writing and directing. He's written the book and lyrics for one "intimate" musical, The Boy In The Bathroom, that currently four theaters around the country are staging. Though he also writes so-called straight plays, Lluberes finds the musical form more intriguing. "The American musical is just so conservative and early in its form, I'm really interested in playing with that more," he says. "[I'm] looking at musicals like independent film, [telling] really interesting, different, intimate stories in a way that musicals haven't done before."
For Peter Pan: The Boy Who Hated Mothers, Lluberes has "written a lot of new dialogue … and about four or five new scenes." Among other changes bucking tradition, the lead character is played by a young man, John Evens Reese, and the actress playing Mrs. Darling — Lisa Hodsoll — later dons male drag to portray Hook. Lluberes asserts this was Barrie's "initial impulse." It also helps bring to life the show's new subtitle. "Mrs. Darling, the mother who loses this child," explains Lluberes, "turns into this great villain, who's trying to kill all children."
Obviously, the new production strays plenty from the familiar warm and fuzzy tale.
"I think this will be the darkest Peter Pan," Lluberes concedes. "But it's also joyful and celebratory — dark in that sort-of childlike way." He compares it to Harry Potter in that it's intended for adults, but with appeal to children — at least to those 10 and up.
"I wanted to create a world where you feel like a kid again," he says. "Remember this moment when you grew up? Remember this moment before all the shit happened to you? When you were just a pure kid? Go back there and relive that. And go through this with us."
Various aspects of the story have particular resonance with gays. Lluberes says that while there's nothing explicitly gay in his production of Peter Pan, "Peter is in shorts and no shirt, a boy in his 20s." And of course, there's Hook as a woman in drag. "She plays this great pirate villain," he says. "And we put her in six-inch boots, so she's insanely tall."
Peter Pan: The Boy Who Hated Mothers runs to March 3 at The H Street Playhouse, 1365 H St. NE. Tickets are $25. Call 336-462-9182 or visit norulestheatre.org.