Just as a recent Washington Post poll shows for the first time that a majority of Marylanders support marriage equality, LGBT activists and their allies are scrambling to deliver the votes needed to pass the measure through the Maryland General Assembly.
The Post poll found that 50 percent of Marylanders support marriage equality, while 44 percent are opposed. The poll was conducted by telephone from Jan. 23-26 among a random sample of 1,064 Maryland adults. The results have a margin of error plus or minus 3.5 percentage points.
But while the poll might provide some small degree of comfort to some same-sex marriage proponents, particularly if the measure is forced to go to referendum as expected, the biggest hurdle supporters currently face is getting the law passed in the House of Delegates.
Last year, the Maryland Senate, long thought to be the more conservative chamber, approved legislation legalizing marriage equality in the Judicial Proceedings Committee and voted 25-21 in favor of the bill when it came before the full body. This year, Gov. Martin O'Malley (D) has put forward the bill as one of his legislative priorities.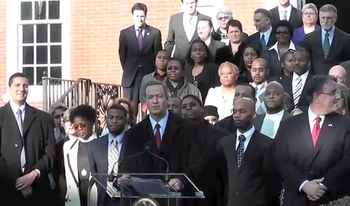 Supporters and even opponents of same-sex marriage, including Senate President Thomas V. "Mike" Miller (D-Calvert, Prince George's counties), have said publicly they believe the bill will pass the upper chamber with 25 votes once again. The senator whose vote was not counted last year, Sen. Joanne Benson (D-Prince George's), has said she opposes marriage equality.
Yet despite the bill's expected success in the Senate, both the breakdown of votes from last year and the Post poll indicate there are significant cultural, racial and geographic divides, even among members of the same political party, on allowing same-sex nuptials.
According to a Metro Weekly analysis of last year's Senate vote, only one of four senators representing Western Maryland voted in favor of the bill and none from conservative-leaning Southern Maryland or the Eastern Shore supported it, even though there are more Democrats than Republicans in the latter two areas.
Almost 60 percent of the votes supporting marriage equality came from Democrats in Montgomery County and Baltimore City, who unanimously supported the measure. But only three senators from the entirely Democratic Prince George's County delegation voted in favor, with four others opposed.
The numbers are even more stark in the House of Delegates, where all but four delegates representing all or parts of Western and Southern Maryland or the Eastern Shore have either come out against marriage equality or have indicated publicly that they are leaning against the measure.
In contrast, 23 of 24 Montgomery County delegates and 14 of 18 delegates from Baltimore City are on record as supporting marriage equality or are thought to be leaning toward supporting it.
According to a Metro Weekly analysis of public statements made by delegates on the issue, when those "leaning" toward a position are included, there are 62 thought to be in favor and 66 thought to be opposed, with 13 thought to be on the fence. In order to pass the bill through the House, short of flipping a few "no" votes, marriage equality supporters must get almost all of those remaining delegates.
[Image: The Washington Post's poll question on marriage.]

According to the Post poll, 71 percent of white Democrats support marriage equality, and 24 percent are opposed. 41 percent of black Democrats back the measure, with 53 percent opposed. The focus on Democrats' views is important because only one Republican senator, Sen. Allan Kittleman (R-Carroll, Howard counties), voted in favor of marriage equality and no House Republicans have publicly said they support the measure, meaning the remaining votes must come from House Democrats.
The poll also found geographic divides, with slim majorities of residents from Baltimore County and Howard and Anne Arundel counties supporting the measure and Baltimore City and Montgomery County — two of the most progressive jurisdictions with regard to LGBT rights — overwhelmingly in favor of it. However, an overwhelming percentage of residents from Prince George's County oppose it, and "the rest of Maryland" — meaning Southern and Western Maryland and the Eastern Shore — split 51-43 against marriage equality.
In that sense, the elected officials voting in favor or against marriage equality seem to mirror the attitudes of their constituents. Of the 13 delegates that have not stated their position outright, almost half are black Democrats from Prince George's County.
Another handful are white House Democrats from conservative-leaning Baltimore suburbs or Anne Arundel County. During last year's Senate vote, the senators who represent the Baltimore suburbs with undecided House members split their votes, and only one senator representing a part of Anne Arundel, James Rosapepe (D-Anne Arundel, Prince George's counties) voted in favor of marriage equality.
Therefore, if supporters can't get the necessary votes from the Prince George's delegation, they will have to win the support of Democrats in areas represented by either Republican senators or Democratic senators who voted against the Senate bill. They also could try and recruit more moderate Republican House members to support marriage equality, but that is less likely, and could prove difficult if Republican leaders threaten retaliation against any member who bucks the official party position opposing marriage equality.
To lobby undecided lawmakers and convince some current opponents to support the bill, proponents of marriage equality are recruiting Maryland residents to do phone-banking and encourage their friends and neighbors to call and write their elected representatives in Annapolis. From a first look at the numbers, they have some swaying to do.