Well, it's Oscar time again! Somewhere out West, at this very moment, starlets are shrieking at their personal assistants about ill-fitting Dior, Billy Crystal is polishing off decades-old bits, and the Academy of Motion Picture Arts and Sciences is pumping oxygen into the Kodak Theatre. The Oscars are Hollywood in all its bloated, masturbatory glory — love 'em or hate 'em for it. Let's get to some predictions.
Best Picture: Despite some clunkers in the running — yes, I mean War Horse, The Help, and Extremely Loud and Incredibly Close — the rest of the nominees are a wonderful collection of whimsical, thought-provoking, thoughtful, and downright entertaining films. As per Harvey Weinstein's iron grip on the academy, the Oscar looks all but sewn up for The Artist — even if The Tree of Life is more deserving.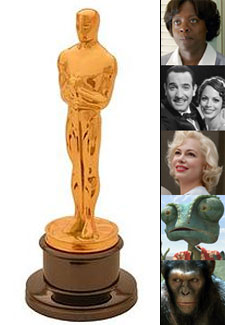 Best Director: Should they reward Terrence Malick's ambition or Martin Scorsese's legacy? Or what about Michel Hazanavicius's spot-on ode to silent film? Can they sleight Alexander Payne or Woody Allen's work? The whole lot of these nominees is deserving of a win, but these are the Academy Awards, people. The Oscar will go to Scorsese, the sentimental favorite.
Best Actor: Yeesh. Is this really the best Hollywood had to offer in 2011? Jean Dujardin and Gary Oldman were brilliant in The Artist and Tinker, Tailor, Soldier, Spy — and George Clooney brought himself down to our level in The Descendants — but that still doesn't excuse Brad Pitt getting a nod for Moneyball. Although the Oscar should go to Oldman, let's be realistic: This is a two-horse race between Dujardin and Clooney. I'm going with the Frenchie.
Best Actress: Meryl Streep was a lock for this award until people actually got to see The Iron Lady… so we've got ourselves an open field now! Judgment says that the academy will rain down praise on Glenn Close for her gender-bending turn in Albert Nobbs — not to mention the three decades she spent trying to make the movie happen — but I can't in good conscience agree. The Oscar should go to Michelle Williams for her captivatingly fun take on Marilyn Monroe, and yet, Viola Davis will win, launching a thousand more columns about The Help and racism.
Best Supporting Actor: Or, the category more commonly known as "Three old guys, a pompous Irishman, and that guy who used to be fat." Christopher Plummer should win for the backbreaking support he gave to Beginners, but it'd be foolish to count out Nick Nolte (Warrior) or Kenneth Branagh (My Week With Marilyn). My guess is that the Oscar will end up in Plummer's wrinkly hands.
Best Supporting Actress: Melissa McCarthy, Melissa McCarthy, Melissa McCarthy. No other actor, man or woman, turned less into more than she did in Bridesmaids. Janet McTeer was the best part of Albert Nobbs and Jessica Chastain is great and all in Tree of Life, but say it with me: Melissa McCarthy!
Best Original Screenplay: It's a shame that A Separation is essentially nominee padding here, because it's worthy of well more than that. The Oscar will go to Woody Allen, and Twitter will explode in geeky pleasure when he can't stop stuttering onstage.
Best Adapted Screenplay: Hugo and Moneyball cast heavy shadows in this category, and a win between one of the two wouldn't be surprising. It'd also be very, very boring — so let's throw a wrench into things. Did you know that Jim Rash, one of the scribes behind The Descendants, plays Dean Pelton on Community? Greendale is streets ahead, so my pick's with the Dean.
Best Animated Feature: Even in a year without a Pixar nod, there are plenty of worthwhile movies to see here, from Rango's off-beat, referential humor to Kung Fu Panda 2, a movie that's just as fun the second time around. The Oscar should, and will, go to Rango.
Best Foreign Language Film: It's always irked me that "Best Foreign Language Film" exists. By lumping foreign films together, the academy might as well tell the average moviegoer, "None of this matters to you, so flip over to Idol." A movie like The Separation, a truly breathtaking film that's a lock to win the Oscar, merits better than that.
Best Documentary Feature: And while I'm ranting, what's the deal with this category? A Byzantine set of rules excluded The Interrupters and Into the Abyss, the year's best documentaries. Of those left, Undefeated or Paradise Lost 3: Purgatory should win. But the Oscar will likely go to Wim Wenders's Pina.
Best Cinematography: Or in other words, which movie was the prettiest? All of the nominees, including an at-last-worthy-of-its-nod War Horse, looked awfully good. A gut instinct says The Tree of Life's Emmanuel Lubezki will take home the Oscar, if only for managing to understand whatever the hell it was Malick wanted to do.
Best Original Score: There's not much to argue here. The Artist had a fantastic score that somehow bolstered an already difficult movie to make. A great silent film's score earns this kind of great recognition.
THE 84TH ACADEMY AWARDS
ABC
Sunday, Feb. 26
8 p.m.
Best Original Song: Bret MacKenzie's "Man or Muppet" was my happiest movie-going moment in 2011. Now, let's hope this Oscar gets his Flight of the Conchords movie off the ground.
Best Makeup: It's a battle between the Brits and Irish! Harry Potter has strength in numbers, while Albert Nobbs had the unenviable job of turning Glenn Close into Buster Keaton and Robin Williams's love child. My money's on the magic managed at Hogwarts.
Best Visual Effects: There are two kinds of visual effects: The awe-inspiring, and the believable. Unless there's any monkey business, the Oscar will go to the best of the latter, Rise of the Planet of the Apes.