Once thought to be an endangered species, otters are now so prevalent in D.C. that, like deer, a hunting season has sprung up.
Of course, Otter Crossing, which takes place the first Friday of every month at the DC Eagle, is geared toward hunters looking for otters of the gay male persuasion, not the better-known semiaquatic weasel.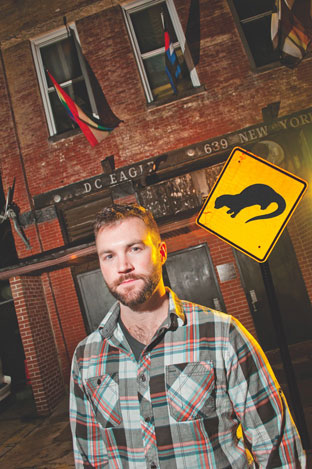 David Brown: Otter Crossing
(Photo by Todd Franson)
And just what is a gay male otter, you ask? "I get that one all the time," laughs David Brown, who organizes Otter Crossing. "Traditionally," Brown says, "it's a slimmer, hairier gay man. But I think more recently it's broadened…to be more this indie/alternative kind of guy, with a beard [or other facial/body hair] — a style that maybe people wouldn't say was traditional gay.
"People have lots of definitions for bears and otters and wolves," Brown continues. "I think the most important thing really is that there's kind of this inherent comfort that comes with some of these terms." The point is to be comfortable with yourself and your body image, and open and welcoming of others of various body appearance and type.
For his part, the 29-year-old Brown laughs he's going on "three decades of hairiness." Brown was born in Huntsville, Ala., but "grew up kind of all over the place," as an only child in a military family. "I have really strong advocates in my parents and I'm really lucky," Brown says.
Brown originally moved to D.C. in 2000 to study international affairs at George Washington University. These days, he works for a consulting firm focused on developing the tourism industry in less-traveled or up-and-coming destinations around the world — most recently the former Yugoslav Republic of Montenegro. "I work for a great company that does good," he says. "Our whole ethos really is to focus on sustainable tourism — a leave-no-trace form of tourism where you take awareness of the environment and the [native] people and the culture."
Brown loves his day job "too much to give up," and has no plans to make party promotion his full time career. But he intends to grow the Otter Crossing party and has ideas for other events at the DC Eagle. "People have for a long time had preconceived notions of what happens at the Eagle," says Brown. Otter Crossing was conceived of as a way to show those who didn't already know that "the Eagle is a fun, welcoming, inviting bar with a great crowd and great bartenders."
The plan has worked beyond Brown's expectations. "We were not prepared for how many people showed up," Brown says of the third Otter Crossing event in January. Since then, he's worked with the Eagle staff to ensure there are enough bartenders and better crowd flow.
While it wasn't intentional to capitalize on the success of Town's Bear Happy Hour by planning the party on Friday nights, it's worked out well, since it allows bar-goers to make what has been dubbed a monthly "Critter Crawl."
"I think D.C. gets a rap as a buttoned-down, stereotypical place," Brown says, "but I think we can see with this party and a lot of the other ones going on right now, you definitely see a crowd that doesn't have any particular mold that it fits into."
Otter Crossing happens on the first Friday of each month. The next one is Friday, March 2, at 10 p.m. at the DC Eagle, 639 New York Ave. NW. Call 202-347-6025 or visit dceagle.com.