There's a refurbished dance floor, which will be flanked by tables and chairs. There's also an enhanced sound system and more lights.
But the biggest change to the space once known as Badlands and Apex and re-opening next Friday, Feb. 10, as Phase 1 of Dupont, comes in the back area off the main dance floor. There the walls are painted a color labeled "sexy pink."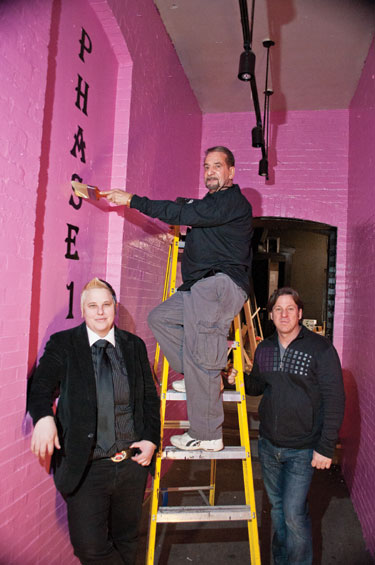 Phase 1 Dupont
"That was Allen's touch of femininity," quips Angela Lombardi, the longtime manager at Phase 1 on Capitol Hill. Allen Carroll, the gay man who owns both lesbian bars, as well as the Ziegfeld's/Secrets complex, has tapped Lombardi to add to her plate with Phase 1 of Dupont. Lombardi will co-manage the venue, already billed as the "East Coast's largest lesbian bar," with Steve Dellerba, longtime manager at Secrets.
"Chris [Jansen], my late partner, and I had always wanted to open up another women's bar," Carroll said earlier this week during an exclusive tour of the new space, which is still under construction. About a decade after opening Phase 1 in 1970, Jansen and Carroll launched The Other Side in the Southeast D.C. space that subsequently housed the original Ziegfeld's/Secrets complex. "The Other Side was the main bar for lesbians in its day," says Carroll.
"I think our community once again owes a giant thank you to Allen for giving us another opportunity to have a big space that's geared toward women," says Lombardi. "Since Allen did it 30 years ago, nobody else has done it."
Initial plans are for Phase 1 of Dupont to be a lesbian playground Friday and Saturday nights, with a rotating roster of DJs pumping current pop and radio hits. Lombardi says they're still working out entertainment details, including when the DC Kings or the DC Gurly Show might perform. But certainly PhaseFest will return this fall bigger and better than ever, moving to the new space several times the size of Phase 1. There's also talk of catering to groups currently underserved by D.C. nightlife.
"We're trying to figure out [which] groups within the community need a place to party," says Lombardi. "Hopefully we'll help fill those gaps."
Carroll is open to ideas about what to do with the second floor of Phase 1 of Dupont. At least initially, it will be open only for private parties.
Dellerba will have lead responsibility for Thursday nights, geared toward "a mixed crowd," both men and women. While Phase 1 of Dupont will be strictly for those ages 21-and-up, Dellerba does expect the night's energy to be similar to Apex's popular 18-and-over college night.
"The girls can say now that they're going to invite guys [to their club]," Carroll says with a smile. "Instead of the other way around."
Phase 1 of Dupont opens Friday, Feb. 10, at 1415 22nd St. NW. Call 202-544-6831 or visit phase1dc.com.