Raising President Obama's "evolving" view on marriage equality with Melissa Harris-Perry makes her laugh.
"Yeah, it's evolving," she says with an incredulous chuckle. "I know. That's just so irritating."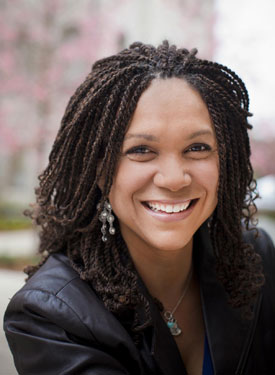 Melissa Harris-Perry
(Photo by Chris Granger)
Looking at the possible Republican opposition this fall, she adds: "Am I gonna vote for him? Yeah, I'm gonna vote for the president. But am I irritated by him talking about an 'evolving' position on marriage when he's the child of an interracial couple? That's nuts."
Harris-Perry, also the child of an interracial couple, is having none of it. "You know, like, stop. Just be evolved. Just stop. That's no good."
Harris-Perry is not new to sharing her opinions, poking at political leaders or pushing – aggressively – for LGBT equality. But with this weekend's launch of her new MSNBC show, Melissa Harris-Perry, from 10 a.m. to noon Saturdays and Sundays, she is ramping things up a notch.
The political science professor at Tulane University is taking an unusual step for a tenured college professor – and for a black woman, let alone an unabashedly liberal one. For Harris-Perry, though, it's a path of progress, both for herself and for the country.
With community activist parents whose directive was to "go out into the world and do good," Harris-Perry tells Metro Weekly on a phone interview conducted as she was driven throughout the streets of New York City – accidentally to 30 Rock and then on to a photo shoot – that she is trying to do just that. Saying that she grew up at city planning meetings "coloring on the back of programs and listening to citizens rant and rave about all the things going on in terms of land-use decisions," she is taking on this new project to "rant and rave" – and possibly discuss great philosophers – all her own.
Having regularly appeared on her show and substituted as a guest host for Rachel Maddow and other MSNBC evening show hosts, Harris-Perry's new show – which joins Chris Hayes's Up With Chris as the network's new weekend morning shows – is part of an effort by the network to amp up its weekend coverage. It's also a reflection of what Harris-Perry sees as the changing face of television, particularly of MSNBC. "I see people and panels that look just more representative of what America, the American government, American ordinary people look like."
Part of that America, Harris-Perry has regularly made clear, must be the full inclusion of the LGBT community.
In an essay for The Nation in 2009, Harris-Perry wrote, "My fierce commitment to marriage equality derives, in part, from my personal biography as an interracial child, descended from American slaves, and raised in Virginia, beginning less than a decade after the Loving [v. Virginia] decision [that ended anti-miscegenation laws]. Even though I am heterosexual, marriage equality is personal."
Beginning at 10 a.m., Feb. 18, Harris-Perry will begin telling her stories, sharing her views and putting the personal, the academic and the political on display for all to see.