Aiden James is not just a pretty face, writing and singing pretty tunes.
In fact, James could get by as your standard singer-songwriter, nothing more. He could choose to sing his songs while strumming an acoustic guitar or playing piano, without giving any thought to embellishment – little music flourishes that respond to his lyrics, and vice versa.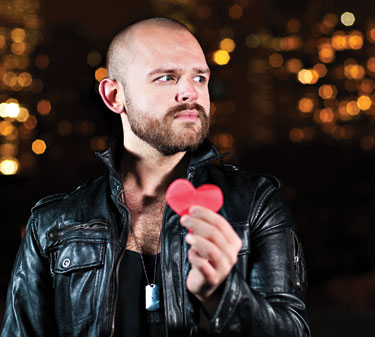 Aiden James
(Photo by Russ Hickman)
If his new album Trouble With This were nothing but unadorned folk-pop, in other words, James would still garner attention – and he would still deserve critical props. At base, his sweet and sensitive songs are catchy and appealing, and his soothing voice and romantic lyrics convey a sense of realistic optimism that is nothing if not irresistible.
If you didn't know James was from Philadelphia, you might peg James as a Midwesterner, or near-Westerner. He sings plainly, with a hint of a twang. Ultimately, his electro-folk music is a variant of folk-pop, with electronic – even country – stylings for color. And some of his songs, especially heart-wearying ballads such as "Gonna Hurt More" and "Snapshot," would be right at home on country radio. The closing track, "Touch Your Heart," has a touch of Jason Mraz in its playful folk energy.
But really, what makes Aiden James stand out isn't just that he's gay – actually, there's a budding crop of gay singer-songwriters today worthy of attention. James deserves more attention because of the relatively subtle, clever touches he often adds to punctuate his musical messages.
Trouble With This launches in a rush, with the giddy first single "Best Shot." "I can't believe the things I let you get away with, even when we're sleeping," James sings. "You're stupid, sexy, a son of a gun." After he mentions New Year's Eve, a backing chorus sings "fa la la, la la la la." In the song's bridge, he repeats the song's refrain but sings it a cappella: "Hit me with your best shot, baby don't" – he holds for a full measure before concluding the thought in one shot – "stop."
"Why do I always wear, my, heart on my sleeve," James sings on the tender ballad "On My Sleeve." The chorus continues to rise in octave until James effectively, appropriately has to push out the last word: "It's getting harder and harder to focus, harder and harder to, breathe." Later, right before the second round of the chorus, he inserts a sly self-referential aside: "Here I go again." And better still, he eventually repeats the song's opening line, "I don't know what it is about you, makes my heart skip two beats." This time though, the music anticipates the lyrics and skips two beats before he does.
I could go on and on – there are in fact even more such hidden gems in "On My Sleeve" alone, and many more throughout Trouble With This. But to say any more would spoil some of the fun in discovery. That is precisely a key reason it's such a joy to keep listening to the album: You're always discovering something else you missed previously.
"There's a certain level of detail that I look for in music," James said in a recent interview. "Little things where the music responds to maybe a lyric or a part in a song." He called this a "next level" approach to songwriting: It doesn't in any way detract for those who don't pay much attention beyond the surface music and melody – and for that reason, the basics have to be strong enough that the song can stand on its own. But the embellishments reward those who do pay close attention, enhancing their experience.
It's certainly not a new style of songwriting, though one wishes for more of it in contemporary pop. James gives much credit to British electronic-pop wiz Imogen Heap for turning him on to the style, as well as to the idea of toying with electronic instrumentation. And in many ways, James does sound like a male Imogen Heap, right down to his eager, earnest, pliable vocal style.
You can just hear Heap performing the gorgeously realized "Lullaby," for example. The song is a veritable lullaby, with James even cooing "la la la, lullaby" as the sweet keyboard-based music envelopes him like an elaborate musical mobile attached to his crib.
"Oh, sing me a lullaby," James sings to his lover. The song ends as James warns in a soft voice, "If I dream this little dream, I might just drift off…."
And with that, both James and the music drift off for several seconds, only to be awakened by the next track, an even more Heap-esque ditty, the bouncy "Let's Go."
Aiden James
Trouble With This
Songster Sounds
$8.99





Appearing Feb. 10 at Town
"Why do you wait, babe? Hey hey, come on let's go," he counsels.
Really, what are you waiting for?
Aiden James performs on Friday, Feb. 10, at 9 p.m. during Bear Happy Hour at Town Danceboutique, 2009 8th NW. Admission is free. Call 202-234-TOWN or visit towndc.com.