There aren't a lot of musicals to see around town over the next month. But even if every theater in town easily accessible by Metro were staging high-quality, first-rate musicals, it's unlikely any of them would be quite as satisfying and joyous as Josephine Tonight. Virginia's Metro Stage may take some work to get to if you're not traveling by car. But the little Alexandria theater that could has really outdone itself with this production, making any effort to see this all-consuming Josephine Baker story worth it.
With music by the late Wally Harper and book and lyrics by Sherman Yellen, Josephine Tonight offers pretty much everything one would hope for in a musical: Rousing, wide-ranging music, scintillating lyrics that both touch and tease, and a compelling story to match. Most importantly, this production, directed and choreographed by the great Maurice Hines, features an ensemble cast of terrific actors, one better than the next, bringing the show to life in extraordinary, triple-threat fashion: with assured acting, glorious singing and vivacious dancing all around.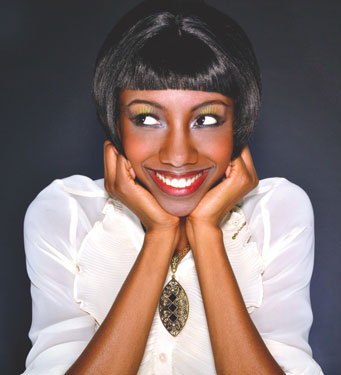 Josephine Tonight: Zurin Villaneuva
(Photo by James Alexander)
Josephine Tonight is a bio-musical that traces the career of the pioneering, bisexual African-American entertainer Josephine Baker, with a particular emphasis on her earliest days growing up poor and black in a racially hostile Saint Louis, struggling to break into the vaudeville circuit and become a star. Zurin Villaneuva plays Baker as a precocious young girl who blossoms into a preternaturally confident worldwide sensation. By show's end, she becomes a strutting peacock, bedecked as part of Reggie Ray's glorious costuming. Up until that point, though, Aisha de Haas almost outshines Villanueva as both Baker's mother, who wanted to be a showgirl herself, and especially as Bertha, the Cotton Club star who takes Baker under her wing.
But when is de Haas Baker's mother and when is she Bertha? You'll likely get confused a couple times, especially late in the show. And that's really the only fault in this production: the occasional difficulty in distinguishing among the five actors' many characters. Only Villanueva plays one character.
JOSEPHINE TONIGHT




To March 18
Metro Stage
$45 to $50
703-548-9044
metrostage.org
Otherwise, the show is a gem that keeps on shining every time you look at it. It moves marvelously courtesy of smart staging, especially scenic designer Klyph Stanford's success in projecting images and patterns on sheer curtains evoking different times and places. Jessica Lee Winfield deserves praise for her transporting lighting, and David Alan Bunn offers tight leadership of a five-piece band with a mean rhythm section. And then there's Hines's sharp, inspiring choreography — including a prolonged tap sequence between Villanueva and the dazzling James T. Lane, playing Eddie Baker. You'll be exhausted and awe-struck just watching it. Now this is show biz.