In No Rules Theatre Company's adaptation of Peter Pan, the actors don't actually fly — not even in suspended fashion.
There's no physical Tinker Bell, either. And Captain Hook's namesake instrument? Here, it's part of a contraption attached to Hook's arm, while his hand – the hand that Pan, so the story goes, chopped off and fed to a crocodile – is exposed for all the world to see.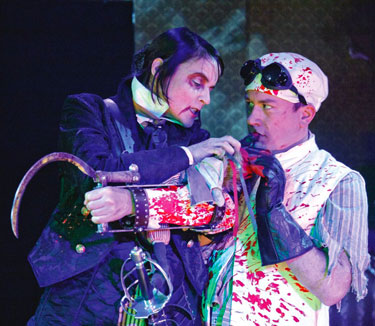 Peter Pan: The Boy Who Hated Mothers
(Photo by C. Stanley)
Pan demands you suspend disbelief and let your imagination loose. But once you do, you'll see there's a lot to explore in this world premiere production by Michael Lluberes, which is more imaginative in its storytelling and staging than most theatrical productions, Peter Pan or otherwise.
Lluberes's adaptation of J.M. Barrie's popular story is darker and more adult-minded than you'll remember it, but he and his strong cast make a persuasive case that this is the way Barrie, who had a serious mother obsession, intended it. This version is based on Barrie's story Peter and Wendy and uses a subtitle drawn from an alternate title of Barrie's, The Boy Who Hated Mothers. In this telling, Peter Pan (a fiery John Evans Reese) is both a boy who refuses to grow up and one with a severe dislike – or at least distrust – of adults, particularly mothers. Meanwhile, his nemesis, Hook, is a man who also hates mothers, but mostly because they bear children. And he hates children so much he makes it his mission to kill them. Wendy Darling (a charming Megan Graves), who Pan lures to Neverland along with her brother John (Joshua Rosenblum), becomes a particular target of Hook's, because she's fulfilling the imaginary role of mother to Neverland's Lost Boys.
No Rules company member Lisa Hodsoll does superb work pulling double duty as Wendy and John's real-life mother, Mrs. Darling, and as Hook — the latter while dressed in flashy male drag, including fabulous six-inch platform boots. (Those boots are the strongest statement costume designer Brandon R. McWilliams makes.) Hodsoll, therefore, becomes both the play's yin and its yang. Lluberes suggests this is how Barrie intended it all along: Hook is the alter ego of Mrs. Darling, who's been severely depressed ever since her youngest child Michael died at the beginning of the play. If her favorite child can't live, the suggestion goes, then no children shall.
Obviously, this is all a far cry from Disney's whitewashed version. It's also probably too layered and dark for children who aren't already teenagers. But give it a chance and it will likely appeal to even those adults who aren't typically drawn to fantasies or make-believe worlds — those, like me, who find Harry Potter to be a folly and a bore. It helps that Daniel Pinha's set changes only as much as the actors do, or want it to — there are no stagehands here. In fact, Peter, Wendy and John only ever "fly" by virtue of being hoisted by fellow cast members, in an understated bit of choreography. And the action moves from Neverland to Hook's ship to the Darlings' bedroom with the minimalist of changes in scenery and lighting — and Carrie Wood never fails to find the right light for any scene.
PETER PAN




To March 3
H Street Playhouse
$25
336-462-9182
www.norulestheatre.org
Though its long first act does get a bit lost in its imaginary world and could stand for trimming — the show runs a whopping two hours and 30 minutes — Rules's Peter Pan regains its real-world footing in Act 2, when the link to what's real and what's imagined is made plain. The story of Peter Pan will endure, a grown Wendy Darling tells us at play's end, as long as children remain "gay and innocent and heartless." Sounds like a mighty long time.