Paint splatters and spills like blood in Red, soaking skin and canvas alike as an aging artist and his young assistant toil in a Manhattan studio. Subtle symbolism it's not in playwright John Logan's exploration of a pivotal period in the life of abstract expressionist Mark Rothko, but it's bracingly effective nonetheless as a reflection of the creative and destructive forces he faced.
It's 1958 when Ken (Patrick Andrews) goes to work for Rothko (Edward Gero), who is immersed in a high-dollar commission: seven paintings for the Four Seasons Restaurant at the new Seagram Building, an instant icon of modernism designed by Philip Johnson and Mies van der Rohe. But it isn't easy money for Rothko, who ultimately creates more than 30 pieces he intends to choose from, before abruptly pulling out of the commission the following year — pressured, as Logan envisions it, by Ken, an artist himself who represents the younger generation threatening Rothko's relevance.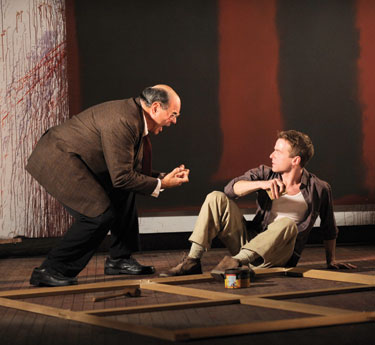 Red at Arena Stage: Gero and Andrews
(Photo by Liz Lauren)
Under the direction of Robert Falls of Chicago's Goodman Theatre (where this co-production with Arena Stage had a fall run), Gero delves compellingly into fascinating facets of Rothko's personality: the abrasive blowhard who contemplates the sounds of "Rembrandt and Rothko" and "Rothko and Rembrandt" (guess which he prefers) as he toys with ways to describe his artistic importance; the conflicted commercial creature who relishes the value of his work yet despises anyone who would admire and collect it without understanding his philosophy behind it; the delusional egoist who convinces himself — for an excruciatingly long time — that he's creating a temple of art, not decorating a dining room.
Andrews's Ken is the seemingly submissive presence in the studio, a mousy man at Rothko's constant beck and call. But the mouse ultimately roars quite convincingly as the voice of those who are unafraid to demand their place alongside, or in place of, Rothko and his peers.
RED




To March 11
Arena Stage
1101 Sixth St. SW
$40-$85
202-488-3300
arenastage.org
Logan's treatment of Ken as a composite character (representing Rothko's many assistants) does give the playwright a bit too much room at times for melodramatic license. Ken, covered in red paint after ecstatically priming a huge canvas with Rothko, reveals the details of a violent tragedy that left him orphaned and doesn't make as much literal sense as it should. And when he later finds a drunken Rothko collapsed on the floor, arms soaked in red paint, it's a heavyhanded allusion to the circumstances of Rothko's suicide in 1970.
Yet therein lies the deeper meaning coursing through the veins of Red: how art at its most eternal will always be, for many of those who create it, a matter of life and death.