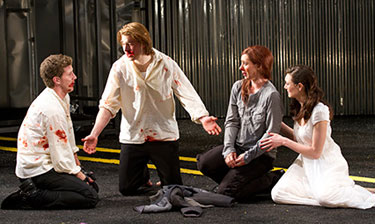 Two Gentleman from Verona at Shakespeare Theatre
Matters of the heart take a rather bloody turn in director P.J. Paparelli's vision of Shakespeare's comedy The Two Gentlemen of Verona, now onstage at the Lansburgh Theatre. Contemporary references abound, as Paparelli correlates social status and royal power in 16th century Italy to the corporate-dominated culture of today (logos incorporated into Walt Spangler's industrial-chic set reference everything from Apple to ING to Campari). And when things get complicated after Valentine (Andrew Veenstra) and Proteus (Nick Dillenburg) make their way to Milan and both fall for the Duke's daughter, Silvia (Natalie Mitchell), out come more firearms than you'd see on the latest episode of Hawaii Five-0.
The gunplay is overwrought and overdone, as is the climactic fight between Valentine and Proteus as they beat each other to a pulp before reconciling. An ill fit, too, are Paul Spadone's costumes, which combine Renaissance and contemporary looks in an odd hybrid style that feels inconsistent with Spangler's set.
THE TWO GENTLEMEN OF VERONA



To March 4
Shakespeare Theatre Company
Lansburgh Theatre
450 Seventh St. NW
$39-$90
202-547-1122
shakespearetheatre.org
Veenstra and Dillenburg can be rather charming, when they're not pointing guns at themselves or each other, or bloodying up each other's handsome faces. And consistently delightful are Adam Green and Euan Morton (not singing as usual, but with a dog!) as the servants Speed and Launce. At least they never forget — even if Paparelli seems to at times — that Verona isn't a tragic destination.