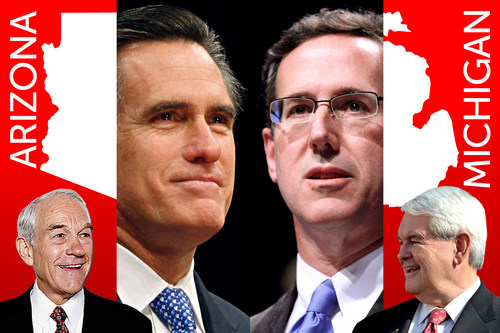 [Graphic: Two primaries — in Arizona and Michigan — are being held on Tuesday, Feb. 28, 2012. (Illustration by Aram Vartian.)]
Tonight, voters in Michigan and Arizona had a significant say in the selection of this year's Republican presidential nominee — a say that former Massachusetts Gov. Mitt Romney's wasn't expecting less than two months ago. Even more surprising is that former Pennsylvania Sen. Rick Santorum was his leading challenger going into the night, having secured more votes in the Iowa caucuses held on Jan. 3 and won several races since.
At the close of the polls, though, all the networks declared Romney the winner in Arizona and Michigan too close to call, down to a race between Santorum and Romney. A little more than an hour later, they called Michigan for Romney as well — a state where Santorum had been leading recently until the race tightened up in the days before the primary. The outcome in Michigan, nonetheless was close, and Santorum could end up receiving nearly the same, if not more, delegates in the state as Romney.
Santorum attempted to give his speech before the results were called in Michigan, but ended up with all the cable networks calling Michigan for Romney while Santorum was speaking.
Less than 30 minutes later, Ann Romney began introducing her husband, who said from the Romney campaign headquarters in Novi, Michigan, "We didn't win by a lot, but we won by enough and that's all that counts."
The two remaining competitors, former House Speaker Newt Gingrich (Ga.) and Texas Rep. Ron Paul gave their speeches for the evening before polls had closed in Michigan and Arizona — and from outside of either state. Paul spoke from Virginia, and Gingrich spoke from Georgia.
GOProud co-founder and strategist Christopher Barron wrote before the polls closed, "If Rick Santorum wins tonight, Michigan may forever be known as the place the Republican Party went to die – a political Waterloo."
R. Clarke Cooper, executive director of Log Cabin Republicans, said in a statement issued after the races were called, "Mitt Romney's victories in Arizona and Michigan reflect a tightening in the field and rejection of Rick Santorum's extreme views against gays, women and education. It remains unknown the actual delegate count from tonight, but any hopes by Santorum to take the race all the way to Tampa have been greatly diminished. Further, the outcome of two Romney wins tonight will yield greater donor support to the candidate as well as the RNC. Further, expect a greater voter turnout on Super Tuesday."
GOProud executive director Jimmy LaSalvia said in a statement issued after the races were called, "These are big wins for Governor Romney. Governor Romney continues to show strength all across the country – finishing in a virtual tie for first in Iowa, winning in New Hampshire, finishing second in South Carolina, winning in Florida, winning in Nevada, winning in Maine and now winning in both Arizona and Michigan."
He added: "Governor Romney's wins tonight are particularly pivotal given the recent surge by former Senator Rick Santorum. It is clear that Governor Romney's message of economic hope and renewal has resonated with voters in both Michigan and Arizona."
[NOTE: This post was updated throughout the evening with the final update at 10:55 p.m.]