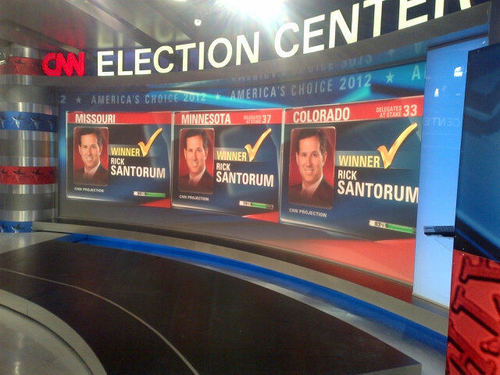 [Photo: The CNN newsroom a little past 1 a.m. Feb. 8, 2012. (Photo via John King on Twitter.)]
About 12 hours after the U.S. Court of Appeals for the Ninth Circuit paved the way, pending appeal, for same-sex couples to be able once again to marry in California, former Pennsylvania Senator Rick Santorum (R) — one of the most clear opponents of LGBT equality remaining in the Republican presidential primary — was announced the winner of his third primary or caucus of Tuesday, Feb. 7, when the Colorado caucuses were called for him.
A man who gained LGBT activists' ire during his time in the Senate for his "man on dog" comments used to dismiss same-sex couples' marriages in an AP interview in 2003, Santorum was the late-night winner in Colorado, as well as the victor in the Minnesota caucuses and the nonbinding primary held in Missouri.
Although former Massachusetts Gov. Mitt Romney (R) remains in the lead in delegates, and is still the frontrunner to secure the nomination, the results shake up the race, will continue to cause headaches for the Romney team and breathes new life into Santorum's effort.
In his victory speech on Tuesday night in Missouri — given before the Colorado results were known — Santorum said, "This is about a country that believes in god-given rights, and a constitution that's limited to protect those rights."
Although he didn't mention it specifically, the broad terms Santorum used would appear to apply to his earlier criticism of the Ninth Circuit ruling, in which he tweeted, "7 [million] Californians had their rights stripped away today by activist 9th Circuit judges. As president I will work to protect marriage."
Santorum's key line of his speech, though, was more of an attack on Romney, saying, "I do care about — not 99 percent, not 95 percent — I care about the very rich & the very poor, 100 percent of America." He also, though, made a strong statement of his aggressive intentions for the ongoing primary race: "I don't stand here to be the conservative alternative to Romney. I stand here to be the conservative alternative to Barack Obama."
R. Clarke Cooper, the executive director of Log Cabin Republicans, was dismissive of Santorum's victories, telling Metro Weekly, "The divisive Rick Santorum is not capable of winning a general election and will not be the Republican nominee."
Cooper added: "As former RNC chairman Governor Haley Barbour has observed, 'Purity is the enemy of victory.' The ability to secure the vote of the general electorate is necessary to succeeding as the Republican nominee."
In newspaper coverage of the states' outcomes, the Minnesota StarTribune reported:
Presidential candidate Rick Santorum won decisively in Minnesota's GOP caucuses on Tuesday, clobbering rival Mitt Romney in a state Romney had won easily just four years ago.
With most of the Minnesota vote in, Santorum won 45 percent of the GOP straw poll, followed by Ron Paul at 27 percent. Romney placed a distant third, while Newt Gingrich placed last.
From Missouri's Columbia Daily Tribune:
JEFFERSON CITY, Mo. (AP) — Former Pennsylvania Sen. Rick Santorum easily won Missouri's nonbinding Republican presidential primary Tuesday, claiming momentum in his challenge against national front-runner Mitt Romney even though the victory won't earn him any delegates.
And, finally, from Colorado's Denver Post, where the results were first announced about 1 a.m. Eastern Time:
Colorado's race see-sawed throughout the night until 11 p.m. [Central Time], when Colorado GOP Chair Ryan Call declared Santorum the winner. But the race was a near tie.
"This is a major upset," said Denver-based political analyst Floyd Ciruli. "Definitely, there is a new story now."
The next outcome comes in Maine. Maine's nonbinding presidential straw poll has been taking place at Maine Republican Party municipal caucuses, and the results of the straw poll will be made public on Saturday, Feb. 11. The Arizona and Michigan primaries are slated for Feb. 28.