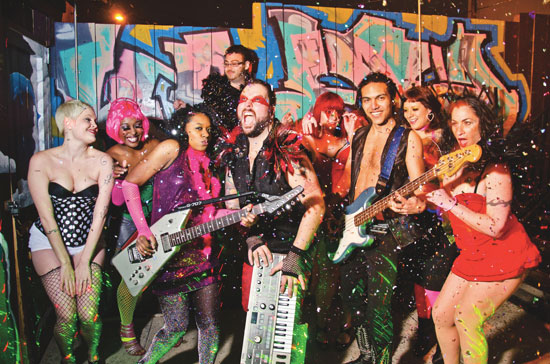 Glitterlust
(Photo by Julian Vankim)
Glitterlust photographed by Julian Vankim at Velvet Lounge, Thursday, Feb. 9
"We almost broke up," says Mikey Torres, referring to his relationship with his partner Dan. "We hit a point where I wasn't able to maintain monogamy. I was cheating and I was lying and I wasn't doing very nice things."
Torres's experiences and observations inform the songs he writes and performs with his D.C.-based queer band, Glitterlust. The 29-year-old's lyrics chart what he's learned about sex and love along the way. In particular, he's learned that life doesn't have to be black or white: either single and promiscuous, or partnered and monogamous. "There's a lot more gray than that," he says. "I just want to sing about these things…to show people you don't just have to follow what the media or what society tells you. I think that there's a lot more that life has to offer if you're just open-minded to it, and you are respectful and communicate with your partner."
Torres decided to start Glitterlust last year after dabbling for years playing bass, guitar and synthesizer, eventually writing his own songs. "I wanted to take what bands like the Scissor Sisters had done and go even further," says Torres, who's a sous-chef at the Beacon Hotel by day. The electro-pop sound of Glitterlust incorporates the "shock rock" influences from Torres's youth in suburban Maryland, most notably Marilyn Manson, Lords of Acid and Rammstein. And his lyrics explore "darker and edgier" aspects of gay culture that aren't "necessarily polite" or mainstream topics — from transsexuals to bathhouses to drug use. "I don't think we have to all try to be the PC image that some of us feel we need to be," he says.
It took Torres a while to find "like-minded" band mates via Craigslist. The lead singer and synth player eventually met lesbian guitarist Liz Wooley and bisexual bassist Chris Roudiez through the site. Torres says he and Wooley bonded over their shared personal turmoil with religion: Torres rejected the homophobia of his Catholic school upbringing, while Wooley was "basically excommunicated" after coming out to her Jehovah's Witness family.
The band, which has performed at PhaseFest and Town's Bear Happy Hour among other gigs, is becoming known for dressing up in wild costumes, most of them made by Torres himself. They also like to act out onstage — such as when Torres dry-humped a friend in a bear costume at Town. "I wanted to create more than just a band," Torres says, to incorporate elements of performance art. "D.C. has had a really amazing history as far as local music," he continues, noting the go-go funk and hardcore punk scenes. But in what he calls a "city of uniforms," "Some people are still nervous about pushing the envelope and being outrageous."
Torres would love for Glitterlust to help spur "a new type of nightlife in the city," one partly inspired by the anything-goes rave scene he remembers from when he was just out of high school, going to parties at Tracks, Nation and abandoned warehouses. "That energy was really magnetic," he says.
That's partly the vibe he's going for with "Homopolitan," the variety show he's organized at the Velvet Lounge this Saturday, Feb. 18. Lesbian R&B group The Coolots and the burlesque troupe the DC Gurly Show will perform for a "modern variety show" headlined by Glitterlust.
At the concert, Glitterlust is likely to perform "FWB," a new song Torres has written that is part of a forthcoming album focused on "the relationships that develop from alternate sexualities: open relationships, triads, alternate families, the friends-with-benefits thing."
"Sex should be liberating and fun and carefree," he says. "Sex is not a weapon." Torres thinks the spread of mobile apps, such as Grindr and Scruff, have helped create a new social scene in which open relationships are "more out in the open."
"Being sexually open can be an enlightening experience," he adds, conceding, "it's a difficult place to achieve, to be in a happy open relationship. You have to figure out what works for you as a couple, and those things take time and a lot of communication, and a lot of work."
But from Torres's own vantage point, he notes, "at the end of the day my relationship is stronger because [it's open]. And [Dan] and I are both better people because of it. And we have a new level of trust."
Glitterlust performs Saturday, Feb. 18, starting at 9:30 p.m., at the Velvet Lounge, 915 U St. NW. Tickets are $8. Call 202-462-3213 or visit velvetloungedc.com.