The Gertrude Stein Democratic Club, D.C.'s foremost LGBT Democratic organization, last night endorsed incumbent City Councilmember Muriel Bowser in her Ward 4 race with 72 percent of eligible-member votes, said the club's president, Lateefah Williams. The threshold for endorsement is 60 percent.
Ward 4 Democratic candidates Renee Bowser, Judi Jones and Max Skolnik also vied for the Stein Democrats' endorsement at the Feb. 16 meeting, held at the Metropolitan Community Church of Washington, D.C.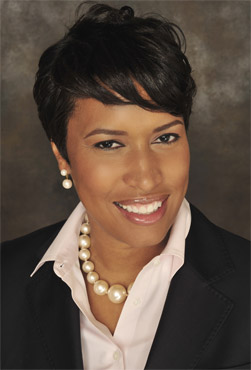 Muriel Bowser
Nate Bennett-Fleming, running for U.S. "shadow representative," and Eleanor Holmes Norton, incumbent D.C. delegate to the U.S. House of Representatives, also won unanimous endorsement in their unchallenged primary races. Norton faces no challenger in the April 3 Democratic primary, but Natale Lino Stracuzzi of the D.C. Statehood Green Party has qualified for the Nov. 6 general election.
While Michael D. Brown, incumbent, and Pete Ross sought the club's endorsement in the race for U.S. "shadow senator," neither candidate secured enough support for endorsement, Williams said.
The Stein Democrats will meet Thursday, Feb. 23, to consider Democratic endorsements in the races for the City Councils Ward 7 and 8 seats. The meeting runs from 7 to 10 p.m. at the Human Rights Campaign Equality Center, 1640 Rhode Island Ave. NW.