METRO WEEKLY: Though they share a similar circumstance, Hubert is the polar opposite of Albert. What was your approach to the character?
JANET McTEER: Apart from being a character that you want to flesh out and create and do something lovely with, you also have to look at the entire piece and say, "What is my character's function in this piece given that the main storyline is Albert's? What's the function of my character?" And the function of Hubert, I felt, was to be the absolute antithesis of Albert Nobbs. So everything that Albert wanted to be — happy, content, at peace with a home, with a partner, and yet somehow comfortable in her own skin — that's what I wanted to create. Somebody with immense confidence, with no fear of being discovered — a warm, friendly, happy, completely contented human being.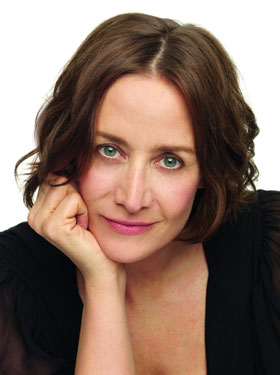 Janet McTeer
(Photo by Robert Ascroft)
So I felt that if that was the case, how does the character get there? Clearly, she was once married and clearly Hubert's husband wasn't very nice to her and bashed her about. In my imagining of her backstory, Hubert got dressed up as a fellow to get a job in unbelievably poverty-stricken Ireland. I think there were things you can look back on in your life and say, "Yeah, makes sense that I did that now even though I don't know why I did it then." I think she got dressed up as a guy and realized that she was way more comfortable like that. That that was really her. And she met Kathleen, and at some point was like, "Well, I might as well tell her the truth." She realized she was in love with Kathleen and Kathleen didn't seem to mind and suddenly they were really happy.
And I'm sure that Hubert would look back and go, "You know what, I could have gone out and got a job as a domestic, but I didn't. I got dressed up as a guy because really I wanted to."
MW: Was there a specific kind of presence you wanted to bring to Hubert?
McTEER: I wanted Hubert to be a very particular kind of bloke — one of those barrel-chested, sort of Viking Irish working class. They're just as soon gentle as they'd punch you in the face. If I had my choice, I'd have had hands the size of Liam Neeson. You know, big hands. But I didn't. I have relatively delicate hands, so I kept them in my pocket for most of the whole performance.
I wanted Hubert to have all of the qualities of both women and men, a real happy combination of the yin and yang, you know, all the lovely, warm, nurturing things that we associate with motherhood, with femininity. She's very, very empathetic and helpful with Albert and then, of course, at the very end with Helen.
MW: One of the scenes Ms. Close and I discussed was the beach scene.
McTEER: Isn't it great? Women in drag as men in drag as women? Unbelievably good fun.
MW: And yet so uncomfortable, especially for Hubert, who exudes nothing but awkwardness.