MW: Jigsaw puzzles? These days most people play video games.
McTEER: I know. I'm a troglodyte, really. I don't have television in my house and I watch things on Hulu the following day if I have to. I read books. I'm a parody of myself, I really am.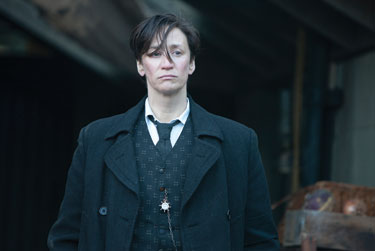 Janet McTeer in "Albert Nobbs"
MW: May I ask your age?
McTEER: I'm 50.
MW: Wow, you look 35. What's your beauty secret?
McTEER: Happiness. [Laughs.] That's the answer, just be happy. I'm ludicrously happy. I think life is wonderful. I have an incredibly lovely, lucky life and I never take it for granted, ever.
MW: Maybe we should put you up for president. It would be a feel-good platform.
McTEER: You know, I was a little girl I wanted to be a ballerina and prime minister. I remember saying to my mother, "I want to be a ballerina and in my spare time I want to be prime minister." I don't think I quite got the measure of the job.
MW: As an actor, what has Albert Nobbs taught you about the human condition?
McTEER: It's taught me that I'm right to continue to attempt to live my life as a nonjudgmental person. I'd always thought that the one thing that being an actress teaches you more than anything else is compassion. Because by definition, you have to stand inside any character that you play and try to imagine what it is like to be them. And you have to meet them somewhere in the middle. So I think the answer is that more than anything else, acting always teaches me more compassion for the human condition and for how hard it is very often for the ordinary person to get through an ordinary day.
Albert Nobbs (Rated R, 113 minutes) is now playing in area theaters.
Continue reading: